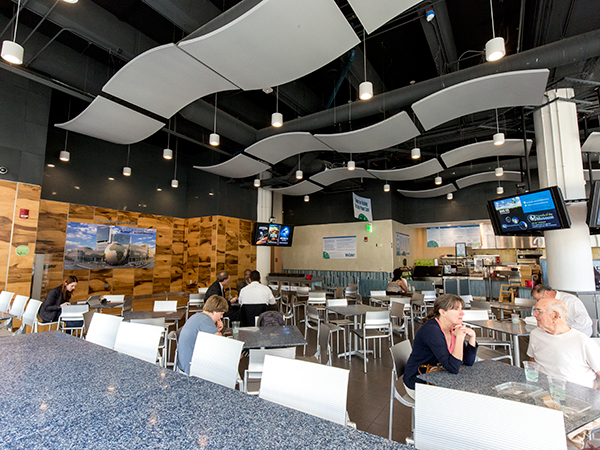 Acro Café
Hours
Monday–Saturday: 10am–4pm
Sunday: Noon–4pm
Location: 4th Floor of the Nature Exploration Center
Enjoy a leisurely lunch break of delectable sandwiches, wraps, hot entrees and snacks. Sip a cup of organic, Larry's Beans coffee and watch the butterflies in the neighboring fourth floor Living Conservatory. The menu also offers kid- friendly options for meals and snacks.
Acro Café can cater special events at the Museum and, with advance notice, can provide special box lunches for groups visiting the Museum. For more information or to make arrangements, contact museumevents@rockytophospitality.com or 919.850.2340.
Information for groups who bring their own lunches and wonder, "Where can my group eat lunch?"
---

The Daily Planet Café
Hours
Monday-Wednesday & Friday: 8am-5pm
Thursdays: 8am-8pm
First Fridays: 8am-7pm
Saturday: 9am–5pm
Sunday: 9am-5pm
Location: 1st Floor of the Nature Research Center
The Café's seasonal menu features food from local and regional farms and purveyors. We love local, and so will you!
Serving breakfast (until 11am), lunch, weekend brunch and small plate entrees
Serving breakfast all day on Sundays
Full coffee bar featuring Larry's Beans
Serving craft beer & wine
Located at the corner of Jones & McDowell Streets, with abundant parking around the Museum
Bring the family, enjoy a working business lunch, meet friends after work, or just stop in to check out our newest Rocky Top Hospitality concept!
Daily Planet Café Menu | Coffee Menu
919.707.8060
thedailyplanetcafe.com