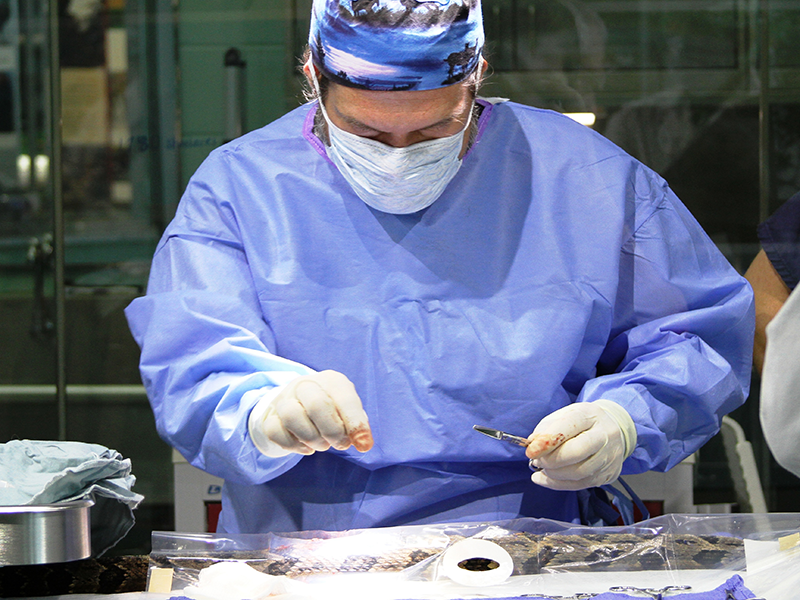 At the Window
The Museum's Window on Animal Health (WOAH) and accompanying One Planet, One Health Exhibit are located on the second floor of the Nature Research Center.
The WOAH serves as the hub for the medical management of the Museum's diverse collection while offering a unique Museum visitor experience to peer into the world of Museum Veterinary Medicine and to interact with veterinary staff, students, and interns working on real medical cases and performing real medical procedures including physical exams and surgeries.
Visitors have full view of the veterinary clinical space including a veterinary medicine procedure room and clinical veterinary medicine laboratory. The WOAH is equipped with 2-way audio between visitors and the VetS team and offers video for visitors to view close-ups of microscopic images and medical procedures. Patients include any of the animals found at the Museum, including reptiles, amphibians, fish, birds, small mammals and invertebrates.
Activities at the Window
Routine physical exams and procedures including wellness exams (Museum animals).
Special surgical procedures (Museum animals).
Medical treatments (Museum animals).
Water testing/ monitor (Museum aquatic systems).
Routine lab work (Museum animals) fecal floats, examine slides.
Student and intern Veterinary Medical Rounds with discussion and review of assigned animal health topics (e.g. chytrid fungus, One Health, common diseases of wildlife, etc…).
Student and intern Veterinary Medical Rounds with discussion and review of assigned cases (e.g. bullfrog with cancer, tree frog with eye injury).
Wildlife research surgical procedures (including implanting transmitters in snakes).
Working with research animals (e.g. taking swabs, blood/ tissue samples, clean procedures).
Review and training of vet students and interns focused on animal husbandry standards and techniques, medical procedures and techniques.
Vet students conducting research, collecting data for projects involving live animals.
Medical equipment and surgical instrument care and maintenance procedures.
Medical procedure preparation.
Program animal acclimation handling.
Animal behavior observations.
Select wildlife rehabilitation cases (turtles and snakes).
Schedule
Tuesdays & Thursdays: 1:30pm–3:30pm
Additional impromptu opportunities throughout each day for public observation at the WOAH are regular, but unpredictable and unscheduled.
---
Staff