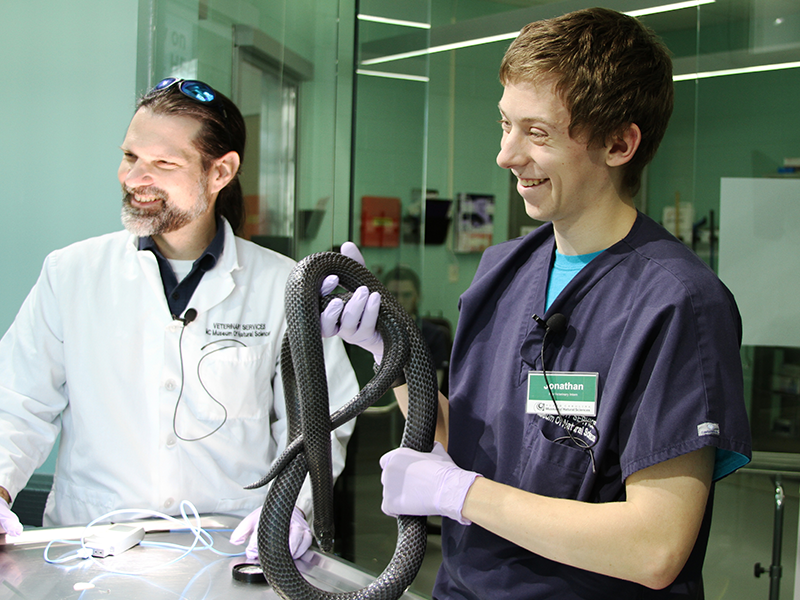 Opportunities
Although Veterinary Sciences does not offer traditional Museum volunteer opportunities; professional and preprofessional opportunities exist within the programs listed below.
Veterinary Volunteers/Community Partners
This Community Partnership is defined as a commitment of a specified amount of time in which a NC licensed veterinarian will provide their professional veterinary services and skills to the Museum. In return for this time commitment, the Museum will provide valuable continuing education in Museum Veterinary Medicine focusing on husbandry, medicine, and diagnostics of museum species. In addition, the Museum will provide public notification of this partnership with the participating veterinarian. This notification will include verbal introduction and descriptions will be provided to Window visitors throughout the activities scheduled during the time the partners are assisting with or leading medical service activities. This partnership will require an on-site time commitment of no less than 4 hours per week in which a veterinarian will assist or lead in medical procedures and community outreach/teaching during regularly scheduled hours in the Window. They will provide much needed support in veterinary medical case management of Museum animals and offer VetS Interns and students additional professional contacts and perspectives in veterinary medicine.
Museum Veterinary Medicine Pre-Vet Internship Program
The purpose of Museum Veterinary Medicine Pre-Vet Internship Program is to provide NCSU undergraduate students interested in a career in veterinary medicine the opportunity to work with the Veterinary Sciences Unit of the museum's Living Collections Section. Participants will gain experience in all aspects of care for Museum live animal species including reptiles, amphibians, mammals, birds, fish, and invertebrates.
Program Goals
Formally recognize individuals who strive to obtain further education in the field of veterinary medicine and animal care outside of the classroom.
Provide personal and professional growth in husbandry and medical care of special species including reptiles, amphibians, mammals, birds, fish, and invertebrates.
Increase knowledge and understanding of Museum Veterinary Medicine through experience providing high quality animal health care in a museum environment.
Assist the animals that reside in the museum by providing compassionate care and enrichment during all stages of the program.
The student will also receive a certificate of completion from the Veterinary Professions Advisory Center.
Additional information and the application process can be found at the NCSU VetPAC website.
---
Staff