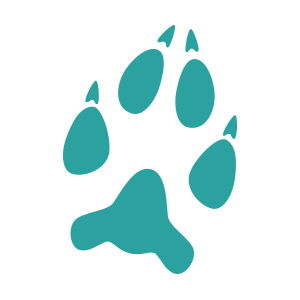 The Wild Animals Podcast delves into the drama and excitement of the lives of real animals, in the real world.
In each episode, scientists tell stories of individual animals they have gotten to know personally by following them with technology like animal tracking or camera trapping. Your host, Dr. Roland Kays, is an expert with this technology, and has tracked animals all over the world. Kays is Head of the Biodiversity Research Lab at the North Carolina Museum of Natural Sciences and is a Research Professor at NC State University.
---
Season 3
Mamma Jane the Ocelot reality star
Date:

3 May 2023

Summary:

Ocelots in Texas are closely monitored, so Mamma Jane grew up around remote cameras since 2011, and wasn't afraid of the lenses. When Fin and Fur Films called about doing a documentary Dr. Lombardi was skeptical if they could get a shot of Mamma Jane and her kittens, but thought they might be able to get some footage with remote cameras. He was right, and guided by Jay's earlier camera-trapping experience and GPS telemetry data, the crew turned Mamma Jane into a reality star in the PBS Nature documentary American Ocelot.

Guest:

Dr. Jason Lombardi is the large carnivore research coordinator for the California Department of Fish and Wildlife, a population and landscape ecologist, and a member of the IUCN SSC Cat and Small Carnivore Specialist Groups. You can follow him on Twitter @JayVLombardi

Species:

Ocelots are medium-sized wild cats that range from Texas down through Central and South America. While common in some parts of their range, In Texas, ocelots are listed as an endangered species due to habitat loss and road accidents. The remaining population of ocelots in Texas is estimated to be around less than 120 individuals but conservation efforts are ongoing to protect and restore their habitat, and a re-introduction effort is underway to establish a new third population in a part of their historic range in southern Texas.
F202: The Yellowstone Cougar Who Showed the Value of Protected Areas
Date:

25 April 2023

Summary:

F202 lived right in the heart of Yellowstone National Park where Anton used groundbreaking technology to study not only where she moved, but also how she hunted. F202 was a fantastic hunter and mom, rearing a number of litters in the park. However, some of her offspring wandered out of the park where they can be legally hunted, showing the challenges of large predators living with the risk of this harvest, and the value of protected areas as a way to help species survival.

Guest:

Dr. Colby Anton is the Black Bear Biologist for Montana Fish, Wildlife & Parks. He worked with the Yellowstone Cougar Project as part of his PhD research with the Yellowstone Center for Resources.

Species:

The cougar, also known as the mountain lion, puma or panther, is a large feline found throughout North and South America. They typically weigh between 115 to 220 pounds and can measure up to 8 feet in length. Cougars are known for their powerful hind legs which allow them to take down prey up to three times their own weight. These big cats are solitary creatures and apex predators in their ecosystem and play a crucial role in maintaining the balance of the food chain.
Episode 9: Lobstah: The Fisher Who Lived the Salt Life
Date:

17 April 2023

Summary:

Fishers are woodland creatures who traditionally avoid people and prefer dense forests. Lobstah was a (very large) fisher who bucked this trend by surviving in small suburban forests, hunted in coastal shrub habitat, and even ran along the rocky coast of Rhode Island. By tracking his movements, Ganoe was able to learn more about how fishers have adapted to the modern word.

Guest:

Laken Ganoe is a PhD student at the Applied Ecology lab at the University of Rhode Island. You can follow her on Twitter @GanoeResearch

Species:

Fishers are one of the largest members of the weasel family and live in northern forests of North America where they hunt small- and medium-sized prey. Their populations declined precipitously in the early 1900s but made a recovery later in that century. Their success in suburban forest and Rhode Island shows their adaptability.
Episode 8: 007: The Warbler Whose Secret Missions Underpin a Species Recovery
Date:

10 April 2023

Summary:

In 2019 a small yellow bird in The Bahamas was given a radio transmitter and a mission—show us what Kirtland's warblers do. Nicknamed 007, this bird not only migrated all the way to Michigan, but also displayed a new behavior that scientists had never tracked at this spatial scale before. This discovery shows how the species was able to recover its lost range over the past three decades and offers hope for their adaptation to climate change.

Guest:

Dr. Nathan W. Cooper, Research Ecologist at the Smithsonian Migratory Bird Center. You can learn more about Cooper's research at his lab's website and by following him on Twitter @Nature_Is_Grand

Species:

Kirtland's warbler is a beautiful yellow and gray bird that nests in the Great Lakes and migrates to The Bahamas for the winter. It is a specialist on regenerating habitats, nesting in jack pine forests that are 5-15 years old. In the past this was a good strategy, as natural fires created new habitat every year. But humans have suppressed this fire cycle, and the warbler faced massive declines as its habitat dwindled, reaching a low point of 167 singing males in 1987. Since then, conservation managers have brought disturbance back to the landscape by clearcutting and planting jack pine trees and allowing some areas to burn and naturally regenerate. The birds have responded, with a population that now numbers more than 2,200 singing males. The species was removed from the Endangered Species list in 2019, but conservationists will have to continue managing the landscape to prevent new declines
Episode 7: Kilkenny: The Red Wolf Who Hatched a Hypothesis
Date:

3 April 2023

Summary:

While Dr. Hinton progressed along his career as a wolf biologist – from intern to master's student to PhD student – the Kilkenny female (11170F) matured from a young teenage wolf into an Alpha female. While Hinton spent time tracking and watching the Kilkenny female, a new idea started crystallizing in his mind about what factors made the difference between a wolf deciding to breed with another wolf, versus hybridizing with a coyote.

Guest:

Dr. Joseph Hinton is a Senior Research Scientist at the Wolf Conservation Center (https://www.gulfcoastcanineproject.org/) or the red wolf project podcast (https://www.redwolfproject.com/podcast).

Species:

Red wolves are one of the most endangered species of mammals on the planet. The last known red wolves in the wild were brought into captivity in a bid to rescue them from extinction during the 1970s. During 1987, some of their progeny were reintroduced into the wilds of eastern North Carolina. That reintroduced population flourished at first, but then coyotes colonized the area. This created a new concern that wild red wolves would hybridize their way to extinction by mating with coyotes, and thus losing their unique "wolfiness" over time. Finding ways to reduce hybridization is key to saving the red wolves.
Episode 6: Cheetah 784: The Orphan Who Overcame
Date:

27 March 2023

Summary:

When poachers killed the mom of young cheetah 784 there was only a slim chance the cub would survive on her own. With no one to teach her how to hunt or navigate the dangers of the open plains, Anna Kussler feared the worst. But 784 persevered and started to figure out how to use her speed to her advantage. Anna and her team watched from nearby, like guardian angels, and taught the cat how to avoid villages. At the same time, 784 was keeping an eye on Anna, and saved her from having the most embarrassing birthday ever.

Guest:

Anna Kussler is a site manager for the Zambian Carnivore Program at Kafue National Park in Zambia

Species:

The cheetah is a large feline found primarily in Africa, although a small population also lives in Iran. They are known for their speed, with the ability to run at speeds of up to 75 mph, making them the fastest land animal.
Episode 5: 003: The White-tailed Deer Who Was a Gold Medal Marathoner
Date:

20 March 2023

Summary:

Deer 003 was the most unusual animal in a large study of deer in Missouri. While most animals disperse a few miles to set up their home range, this deer set out on a marathon trek, breaking records as he went. Moving at night to avoid archery hunters, 003 was on a mysterious mission, and showed scientists just how far a deer can move.

Guest:

Dr. Josh Millspaugh is the Boone and Crockett Professor of Wildlife Conservation at the University of Montana.

Species:

White-tailed deer are one of the most common, most loved, and most hated mammals in North America. They thrive in rural and urban areas and are the most important game species in the country.
Episode 4: Turkey 473: The Southern Chick Who Sported a Beard and Was a Truck Junkie
Date:

13 March 2023

Summary:

Even before he launched a rocket net over her head, Dr. Chamberlain knew Turkey 473 was a special bird because she sported a big beard (which is very unusual for hens). After outfitting her with a radio transmitter, Chamberlain tracked 473 for more than two years, monitoring her nesting behavior, and learning how turkeys avoid, or fail to avoid, their many predators. One year her nest seemed positioned at the ideal place to watch for Chamberlain's approaching field truck, which seems like it would make his work easier, but actually threatened to derail the research.

Guest:

Dr. Michael Chamberlain, Terrell Distinguished Professor of Wildlife Ecology and Management, Warnell School of Forestry and Natural Resources, University of Georgia. You can follow him on Twitter @WildTurkeyDoc.

Species:

Wild turkeys are one of the largest and most distinctive North American birds. They were once on the brink of extinction, but have made a remarkable recovery thanks to conservation efforts, and are now hunted for sport.
Episode 3: Samuel: The Little Giant Tortoise Who Lived
Date:

6 March 2023

Summary:

Dr. Blake first met Samuel as the hatchling tortoise left its nest on the Galapagos Islands. A tiny tracking tag helped Stephen and his team track the little guy as he legged it away from his nest site, navigating the harsh volcanic landscape in search of safety and some edible foliage. Eight years later, Samuel has grown to over 15 pounds and survived the most dangerous period of his life, which now could stretch on over the next century and beyond.

Guest:

Stephen Blake, PhD, assistant professor of biology at Saint Louis University. You can learn more about his work on the Galapagos at www.gianttortoise.org or read about his urban turtle work at www.forestparklivinglab.org.

Species:

The Galapagos giant tortoise can weigh over 600 pounds and live up to 200 years. They are a symbol of the Galapagos Islands and play vital ecosystem roles as seed dispersers. Although their populations have been greatly reduced due to historic hunting and habitat loss, new conservation efforts are now restoring their numbers.
Episode 2: 5715: The Woodpecker Who's Seen It All
Date:

27 Feb 2023

Summary:

Bird 5715 was the, you guessed it, 5715th bird captured as part of a long-term study of acorn woodpeckers since 1974 at Hastings Natural History Reservation in Carmel Valley California. She had the fortune of being born into the richest territory around, with tens of thousands of acorns stashed into woodpecker-created holes in trees (aka granaries). However, this privileged upbringing also presented challenges to her finding a mate under the watchful eye of her record-setting father, forcing 5715 into a series of gang fights and walkabouts.

Guest:

Dr Sahas Barve is the John W. Fitzpatrick Director of Avian Ecology at the Archbold Biological Station. You can follow him on Twitter @SahasBarve.

Species:

Acorn woodpeckers are native to the western United States south to the Colombian Andes. In California they are famous for their unique behavior of storing acorns in granaries drilled into trees.
---
Episode 1: Waffles: The Hyena Who Climbed the Social Ladder
Date:

20 Feb 2023

Summary:

Spotted hyenas live in large clans ruled by a queen who typically passes her high rank onto her daughters. Waffles was born from a low-ranking (peasant) family but was able to assemble a gang that helped her claim the throne. This risky venture paid off for Waffles, who had numerous offspring (named after syrup brands), but ended tragically for some of her gang members.

Guest:

Dr. Eli Strauss is a postdoctoral researcher at the Max Planck Institute for Animal Behavior and Michigan State University. His work with Waffles is part of the Mara Hyena project, affiliated with Michigan State University. You can follow Strauss on Twitter @_straussed and the hyena project @MaraHyenas.

Species:

Spotted hyenas are a large African predator with distinct vocalizations, including a high-pitched cackle that has led to their nickname of the laughing hyena. They are highly social animals and live in large clans, which can contain up to 100 individuals. Hyenas are also famous for their unique reproductive biology, with females having pseudo-penises that are structurally and functionally similar to the males'.
---
Season 3 Preview
---
Season 2
---
Season 1
---