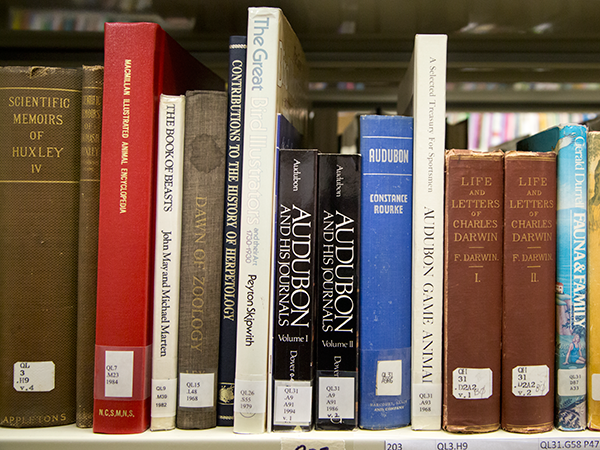 Our Library
Janet Edgerton, Head Librarian, janet.edgerton@naturalsciences.org
Margaret Cotrufo, Assistant Librarian, margaret.cotrufo@naturalsciences.org
Location: Nature Exploration Center, Level A.
Public hours: 9am to 4pm, Monday–Friday
Library services
Circulation
Acquisitions
Reference
Interlibrary loan
Scanning
Areas of emphasis
Natural history of North Carolina and the southeastern United States
Field guides
Popular and scientific natural history journals/magazines
Children's books on natural history
History of the Museum, including Archives
Policies
Brimley Library Collection Development Policy
The Library's Collection Development Policy specifies the subject areas and formats for library materials to be added to the Museum Library collections, both for purchased and donated items.
About the Archives
The Brimley library houses the archives of the Museum. The archives include correspondence, receipts, scrapbooks, newspaper clippings, and photographs. The photographs include glass plate negatives and positives, lantern slides, 4x5 negatives, and 35mm slides. Most of the photographs are of the Museum exhibits, flora, fauna, scenic and agricultural subjects. The collection also includes four Japanese dolls. Most of our archival documents date from the administrations of H.H. Brimley (1895–1936; first director) and Harry Davis (1937–1966; second director).
Digital Resources