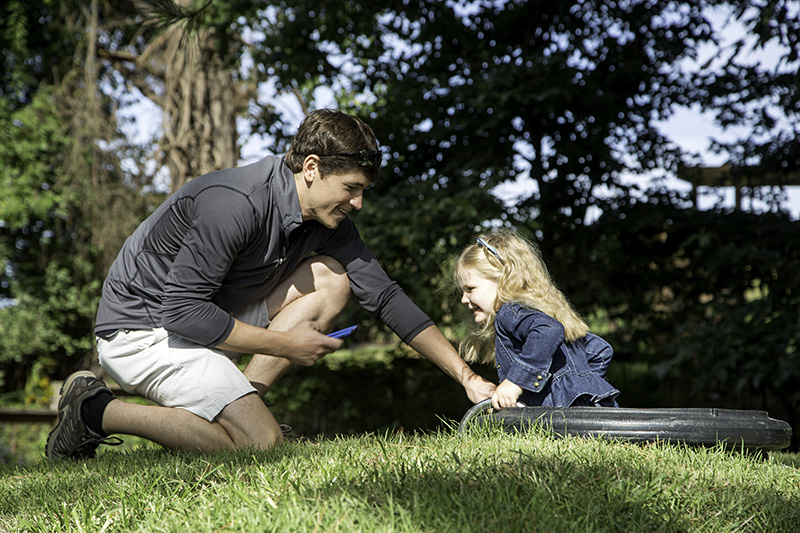 Celebrate the importance of outdoor play in the lives and education of children in the NC Museum of Natural Sciences' Nature PlaySpace, designed especially for families with young children!
On September 28, 2013, Prairie Ridge Ecostation unveiled the beginnings of the Nature PlaySpace as part of our Take A Child Outside Week celebration. Made possible in part by a grant from PNC's Grow Up Great, the PlaySpace provides families with a place to enjoy the natural world, a perfect backdrop for children first learning how to care for our natural resources. Families can explore the otter slide, groundhog tunnel, woodland hut, mini-prairie maze, and areas for art, digging, and water play. Children can climb over logs and boulders, roll in the grass, make mud pies, observe nature, and dig for "fossils."
There are two entrance arbors into the PlaySpace. One is on the paved pathway that leads to the amphitheater. The other is located just down the hill from our Outdoor Classroom. Bathrooms with a changing station are available in the Outdoor Classroom and picnic tables are available just outside the PlaySpace. Nature PlaySpace hours are the same as for Prairie Ridge. Directions to Prairie Ridge Ecostation.
Bringing a Group to the PlaySpace?
We ask that you notify the Prairie Ridge staff ahead of time if you plan to bring groups of 10 or more to visit the Nature PlaySpace or other parts of Prairie Ridge. Contact Ashley Gagnon at ashley.gagnon@naturalsciences.org or 919.707.8737 for more information or to notify us of your visit.
Help Wanted!
Our Nature PlaySpace is a work in progress, and new features will be added as funds and volunteers become available. If you are interested in providing funding for, or volunteering in, this unique space, please contact earlychildhood@naturalsciences.org or 919.707.8737.