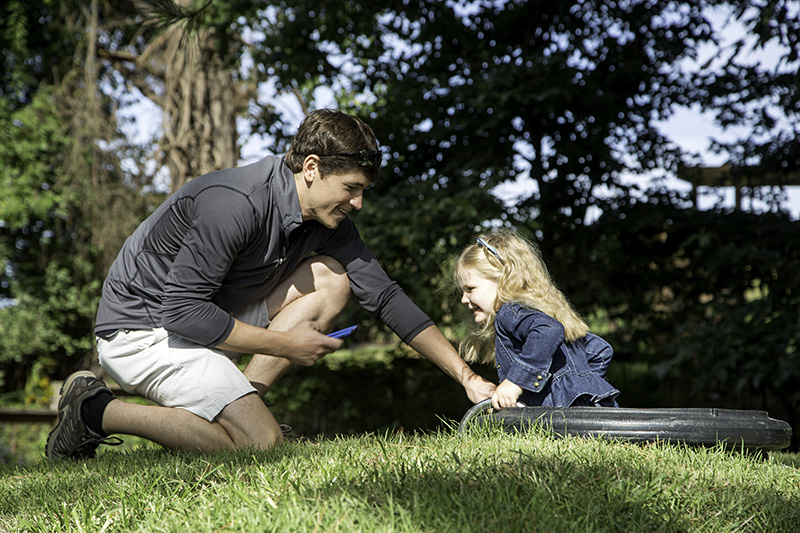 Celebrate the importance of outdoor play in the lives and education of children in the NC Museum of Natural Sciences' Nature PlaySpace, designed especially for families with young children!
On September 28, 2013, Prairie Ridge Ecostation unveiled the beginnings of the Nature PlaySpace as part of our Take A Child Outside Week celebration. Made possible in part by a grant from PNC's Grow Up Great, the PlaySpace provides families with a place to enjoy the natural world, a perfect backdrop for children first learning how to care for our natural resources. Families can explore the otter slide, groundhog tunnel, woodland hut, mini-prairie maze, and areas for art, digging, and water play. Children can climb over logs and boulders, roll in the grass, make mud pies, observe nature, and dig for "fossils."
There are two entrance arbors into the PlaySpace. One is on the paved pathway that leads to the amphitheater. The other is located just down the hill from our Outdoor Classroom. Bathrooms with a changing station are available in the Outdoor Classroom and picnic tables are available just outside the PlaySpace. Nature PlaySpace hours are the same as for Prairie Ridge. Directions to Prairie Ridge Ecostation.
Nature Stories
When you're looking for an outing that enlightens the minds of young children, open their eyes to the wonderful world of nature and join us for Nature Stories, a family-friendly program open to all every Thursday from 10:30 to 11am. This fun and free storytime takes place in our outdoor amphitheater, surrounded by nature, where children can engage in interactive stories and hands-on experiences. No reservations required — just arrive dressed for outdoor play! Many parents bring a picnic or bag lunch so that they can take in the sights at Prairie Ridge or explore the Nature PlaySpace after the program.
Nature PlayDays
Come out and play! The Nature PlaySpace will be stocked with extra special materials and supplies and a Museum play facilitator will be present to help you play your way. Supplies may vary from week to week, but will include fun things like fort-building equipment, puppets and costumes, bubbles, paint, giant blocks and more.
This informal, drop-in event happens every Tuesday and Saturday, 10am–noon. Staff and supplies will be available during that time. Come dressed for the weather and ready to get messy! Everyone is welcome at the Nature PlaySpace, but it has been designed especially for kids 7 and younger.
Bringing a Group to the PlaySpace?
We ask that you notify the Prairie Ridge staff ahead of time if you plan to bring groups of 10 or more to visit the Nature PlaySpace or other parts of Prairie Ridge. Contact Bonnie Eamick at bonnie.eamick@naturalsciences.org or 919.707.8880 for more information or to notify us of your visit.
Help Wanted!
Our Nature PlaySpace is a work in progress, and new features will be added as funds and volunteers become available. If you are interested in providing funding for, or volunteering in, this unique space, please contact earlychildhood@naturalsciences.org or 919.707.8737.