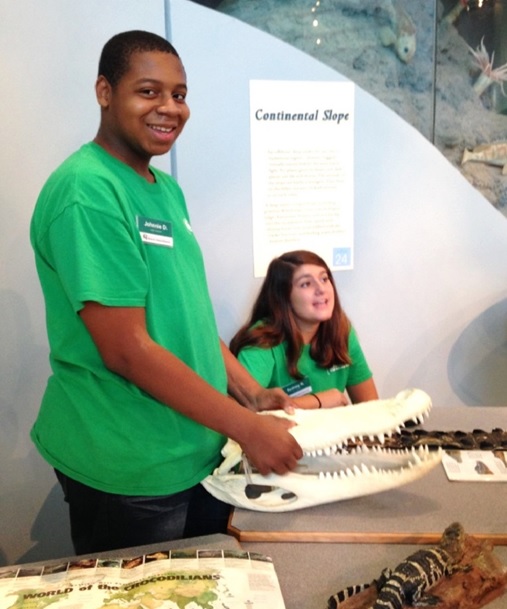 Rising Grades 9–12 (in 2020-2021 school year)
Junior Interpreters (formerly known as Junior Volunteers) are teens who are passionate about sharing the wonders of science and the natural world with others. Junior Interpreters interact directly with the public out on the Museum floor and provide them with the opportunity to have up-close, hands-on educational experiences with natural history specimens from the Museum's collections. This is a summer program, running for ten weeks.
Teens in the program will have the chance to develop valuable speaking and customer service skills while building a strong knowledge of natural science topics and passing that knowledge along to Museum visitors of all ages, abilities and backgrounds. These dedicated Museum ambassadors serve as representatives of the Museum and help advance the Museum's mission of illuminating the natural world and inspiring its conservation. After successfully completing one full summer of volunteer service, Junior Interpreters will have the opportunity to apply to return to the program and receive training to handle live animals* out on the Museum floor.
Junior Interpreters commit to attending 10 weekly 3-hour volunteer shifts for a total of 30 service hours, plus required orientation and trainings:
Workday shifts will take place in either mornings (10am–1pm) or afternoons (1–4pm) on Tuesdays, Wednesdays or Thursdays; students selected for the program will be assigned to a shift with a partner based on availability.
Occasional trainings on new topics will be held on workdays from 12:45 to 1:15pm, which will require morning shifts to stay late and afternoon shifts to arrive early; we will provide advance notice of these trainings.
Students will be allowed to reschedule a maximum of three shifts due to family vacations, illness or other commitments.
A required new student orientation will be held on a Saturday in May 2020 (exact date TBD).
An end-of-summer celebration will be held in August at the conclusion of the program.
To protect the health and safety of our teen volunteers and staff, the Junior Interpreter program will be unable to run in the summer of 2020. Online application links for summer, 2021 will be posted by the end of the month in January, 2021.
If you have questions or experience technical issues with your application, please contact Lynn Cross at lynn.cross@naturalsciences.org.
*Due to the unique challenges of working with live animals, this opportunity is only open to students who have already completed at least one summer of dedicated experience in the program and who have been selected to return.
Watch this video to hear firsthand about the Junior Interpreter (formerly Junior Volunteer) program from students and their parents:
---
Staff