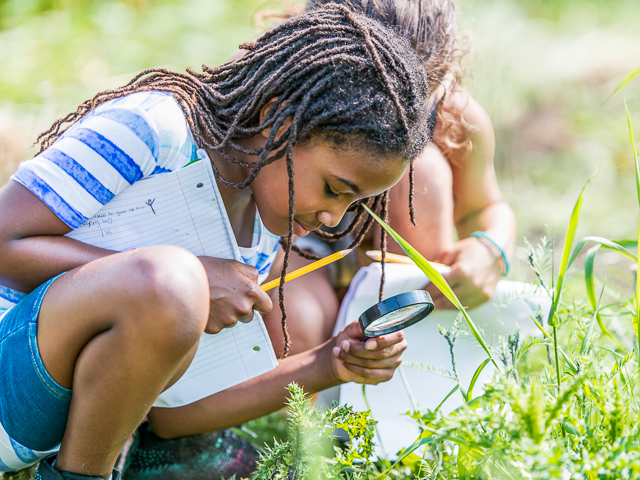 Girls Grades 6–8 (2022–23 school year)
Dates: July 18–23, 2022
Camp starts at 1:00pm on Monday, July 18 and ends at noon on Saturday, July 23, 2022.
Fee: $650 includes all activities and program materials, lodging, meals, field trip transportation, T-shirt and certificate. Scholarships are available!
Location: Blue Jay Point County Park Overnight Lodge
3200 Pleasant Union Church Rd, Raleigh, NC 27614
Explore the natural world through hikes and hands-on science activities in this science-intensive residential summer camp, open to girls from across North Carolina! We'll explore science and the world around us, get our feet wet in the lake and our hands dirty in the forest and meet the wildlife hiding under our noses. We'll go behind the scenes at the Museum, investigate North Carolina's ecosystems on local field trips, meet scientists, challenge ourselves and discover career opportunities in science. It's sure to be a fun-filled week!
Deadline extended! To apply, please complete the three-part online application by the NEW due date of Wednesday, June 22, 2022 at 5pm.
Girls in Science Camp Student Application Form
Girls in Science Camp Parent Form
Girls in Science Camp Teacher Recommendation Form
COVID-19 Policy
The safety of our participants and staff is our primary concern; as such, students will be expected to follow all current local, State-mandated, and/or CDC-recommended guidelines for wearing masks, social distancing, hand washing and other COVID-19 safety protocol. Participation in this in-person program will require that a parent or guardian show proof that their student is fully vaccinated against COVID-19. In the case of a medical or religious exemption to vaccination, proof of a negative COVID-19 test result will need to be provided before the start of camp, and further testing during the week may be required.
Failure to comply will result in immediate termination of participation without a refund. Virtual participation will not be offered at this time. Program staff reserve the right to remove non-compliant students from the camp at any time. Please direct all questions regarding this policy to Erin Apple at erin.apple@naturalsciences.org or 919.707.9951.
Please note: this application-based program is competitive, and we typically receive more applications than we can accept. If you have questions, please contact Erin Apple at erin.apple@naturalsciences.org.
---
Staff