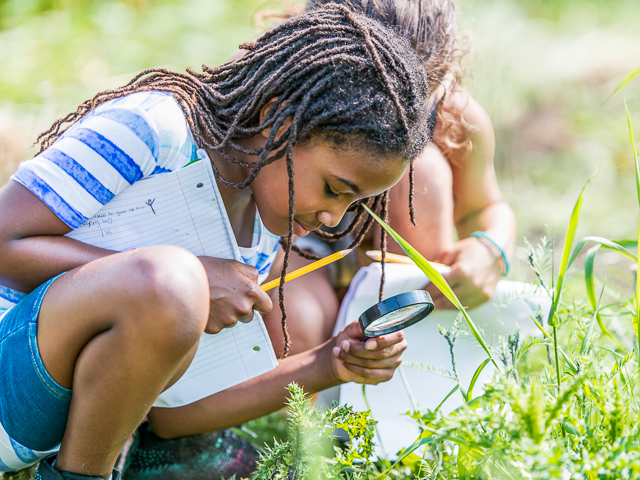 Girls Grades 6–8 (2023–24 school year)
Dates: July 17–22, 2023
Camp starts at 1:00pm on Monday, July 17 and ends at noon on Saturday, July 22, 2023. We'll welcome families for refreshments and a fun recap of the week on Saturday from 11:00am–noon, followed by check-out.
Fee: $750, due at camp check-in July 17. Fee includes all activities and program materials, lodging, meals, field trip transportation, T-shirt and certificate. Scholarships are available!
Location: Blue Jay Point County Park Overnight Lodge
3200 Pleasant Union Church Rd, Raleigh, NC 27614
Explore the natural world through hikes and hands-on science activities in this science-intensive residential summer camp, open to girls from across North Carolina! We'll explore science and the world around us, get our feet wet in the lake and our hands dirty in the forest and meet the wildlife hiding under our noses. We'll go behind the scenes at the Museum, investigate North Carolina's ecosystems on local field trips, meet scientists, challenge ourselves and discover career opportunities in science. It's sure to be a fun-filled week!
Applications will be accepted on a rolling basis.
Scholarships are available and can be requested through the parent form below.
Girls in Science Camp Student Application Form
Girls in Science Camp Parent Form
Girls in Science Camp Teacher Recommendation Form
Please note: this application-based program is competitive, and we typically receive more applications than we can accept. If you have questions, please contact Erin Apple at erin.apple@naturalsciences.org.
---
Staff