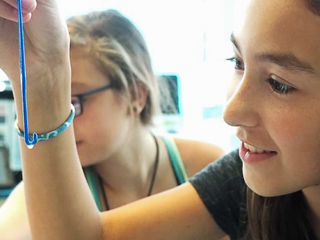 Girls Grades 6 & 7
Girls in Science: Future Focus is an afterschool program focused on engaging middle school girls in exploring careers in science with like-minded peers. Students will meet women in science or other STEM professions, hear their personal and career stories and engage in fun, hands-on science experiments.
Running in-person March–April, 2022, Future Focus is an intensive, eight-week program for 6th- and 7th-grade girls and nonbinary students who have shown ability and strong interest in the sciences, especially the natural sciences. The Girls in Science mission is to engage girls in hands-on science experiences, connect participants to inspiring women in science and to create a safe atmosphere where diversity can be celebrated and students' natural curiosity can flourish.
COVID-19 POLICY
The safety of our participants and staff is our primary concern; as such, students will be expected to follow all current local, State-mandated, and/or CDC-recommended guidelines for wearing masks, social distancing, hand washing and other COVID-19 safety protocol. Participation in this in-person program will require that a parent or guardian show proof that their student is fully vaccinated against COVID-19. In the case of a medical or religious exemption to vaccination, proof of a negative COVID-19 test result will need to be provided on a weekly basis before each meeting.
Failure to comply will result in immediate termination of participation without a refund. Virtual participation will not be offered at this time. Program staff reserve the right to remove non-compliant students from the program at any time. Please direct all questions regarding this policy to Erin Apple at erin.apple@naturalsciences.org or 919.707.9951.
---
Fee: $120/child: full or partial need-based scholarships are available and families requesting scholarships are highly encouraged to apply.
Program runs for eight weeks, March 3–April 21, 2022. Meets in person on Thursdays from 4pm to 5:30pm.
To apply, please submit the following three-part online application in full by the deadline of 11:59pm Thursday, February 24, 2022:
Please note that this is a competitive program, and we receive more applications than we can accept. If you have questions about the application process, please contact Erin Apple at erin.apple@naturalsciences.org.
Interested in sharing your career path with the Girls in Science? Submit an inquiry to be a guest speaker!
---
Staff