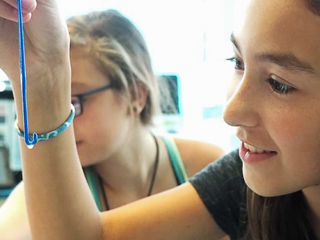 Girls Grades 6 & 7
Girls in Science: Future Focus is an afterschool program focused on engaging middle school girls in exploring careers in science with like-minded peers. Each week, girls will meet a woman in science or other STEM profession, hear her story and engage in fun, hands-on activities related to her career.
Running virtually January–March, 2021, Future Focus is an intensive, ten-week program for 6th- and 7th-grade girls and nonbinary students who have shown ability and strong interest in the sciences, especially the natural sciences. The Girls in Science mission is to engage girls in hands-on science experiences, connect participants to inspiring women in science and to create a safe atmosphere where diversity can be celebrated and students' natural curiosity can flourish.
Fee: $150/child: full or partial need-based scholarships are available and families requesting scholarships are highly encouraged to apply.
Program runs for ten weeks, January 21–March 25, 2021. Meets virtually on Thursdays from 4pm to 5:30pm.
Our 2021 virtual program is currently full and applications are now closed.
Please note that this is a competitive program, and we receive more applications than we can accept. If you have questions about the application process, please contact Erin Apple at erin.apple@naturalsciences.org.
Interested in sharing your career path with the Girls in Science? Submit an inquiry to be a guest speaker!
---
Staff