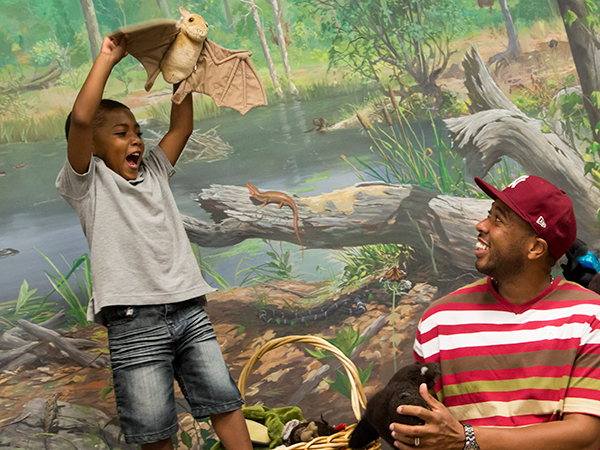 Overview
The Discovery Room is a special place for families and visitors of all ages to explore the natural world up close.
Engage your senses by touching fossils, feeling bird wings, smelling tropical scents, watching the beehive and more. Try on costumes, play with puppets and find hidden animals in our dead tree critter hotel. This is an ideal area for intergenerational learning.
Programs are available for early childhood groups in the mornings from October through May. Chaperoned groups can only be accommodated during family time with prior arrangement with the coordinator.
Family Time Hours
Volunteering
Volunteers interact with the public and help Discovery Room visitors examine and touch specimens that normally are only seen.
Time commitment: Two 3-hour shifts per month (preferred).
Training: Specialized training in all aspects of the room and in interacting with families and young children; on-the-job training.
More Information about Volunteering
Información General
La Sala de Descubrimiento (Discovery Room) es un lugar especial para que las familias y los visitantes de todas las edades exploren de cerca el mundo natural.
Despierta tus sentidos tocando fósiles, sintiendo las alas de aves, oliendo aromas tropicales, observando la colmena de abejas y mucho más. Ponte disfraces, juega con títeres y encuentra animales escondidos en nuestro Hotel del Árbol Muerto para criaturas. Esta es un área ideal para el aprendizaje intergeneracional.
Existen programas disponibles para grupos de niños pequeños por las mañanas de octubre a mayo. Los grupos con acompañantes solo pueden ser acomodados durante el horario familiar con previo acuerdo con el coordinador.
Voluntariado
Los voluntarios interactúan con el público y ayudan a los visitantes de la Sala de Descubrimiento a examinar y tocar especímenes que normalmente solo pueden ser observados a distancia.
Compromiso de tiempo: Dos turnos de 3 horas al mes (preferiblemente).
Entrenamiento: Entrenamiento especializado en todos los aspectos de la sala y en la interacción con familias y niños pequeños; entrenamiento se realiza durante las horas de trabajo.
---
Staff