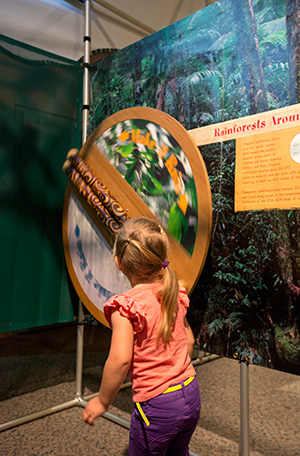 April 26–September 1, 2014
Swing like a spider monkey. Ride the butterfly zip-line. Discover a rodent that weighs more than 100 pounds and a beetle that can carry more than 850 times its own weight. Visitors to this new exhibition are invited to explore one of the least-known habitats on Earth in a fully interactive maze, chock full of the sights and sounds of a tropical rainforest.
The journey begins in the highest treetops surrounded by migratory birds and radiant sunlight. In an effort to reach the forest floor, visitors must answer questions about the rainforest. Incorrect answers lead to dead ends, while correct answers lead them deeper into the four layers of the rainforest: emergent, canopy, understory and forest floor.
Created by Minotaur Mazes, Rainforest Adventure offers visitors an interactive experience that empowers them to make a difference after they learn how essential rainforests are to human health and survival, and that in caring for the rainforest they are caring for the planet.
Rainforest Adventure is sponsored by Capitol Broadcasting Company and UNC-TV Kids Club with supplemental children's activities developed in collaboration with Marbles Kids Museum.