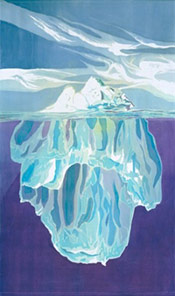 June 25–November 6, 2011
Iceberg Batik on silk, 77"x44.5"
Art inspires. Science educates. But what happens when those roles are reversed? Or better yet, combined? Witness Our Expanding Oceans, a comprehensive exhibit developed by artist Mary Edna Fraser, scientist Orrin Pilkey, and the North Carolina Museum of Natural Sciences.
The exhibit explores the major elements of global climate change, from melting ice to rising seas, and features more than 50 hand-dyed silk batiks depicting aerial, satellite and conceptual perspectives of our environment. These pieces, permeated with color, produce stunning visual effects. The silk cloths, colored by hand using a modern variation of an ancient dyeing technique, are every bit as dynamic as the landscapes they depict. The exhibit is based on the book "Global Climate Change: A Primer," authored by Orrin and his son Keith Pilkey with batik art by Fraser.
The pioneering work of contemporary American artist Mary Edna Fraser has been collected and exhibited worldwide. Fraser works from her own aerial photographs and memories of flight as well as from satellite and space imagery. In 1994-95, she was the first woman to be honored with a one-person exhibition at the Smithsonian National Air and Space Museum in Washington, DC. The National Science Foundation and National Academy of Science have featured Fraser and Pilkey's collaboration, as have Duke Museum of Art and Emory University. She has completed numerous public commissions, including batiks for the American Embassy in Thailand and the National Aeronautics and Space Administration.
Orrin Pilkey is James B. Duke Professor Emeritus of Geology and Director of the Program for the Study of Developed Shorelines within the Division of Earth and Ocean Sciences at Duke University. In addition to having written The Beaches are Moving: The Drowning of America's Shoreline, Living by the Rules of the Sea, and Useless Arithmetic, Pilkey has coauthored and edited 36 books. His work is featured in publications such as New York Times Magazine, Esquire, Oceans Magazine, Smithsonian Magazine, the Chronicle of Higher Education, and National Geographic. He is the recipient of many awards, including the Francis Shepard Award for Excellence in Marine Geology.