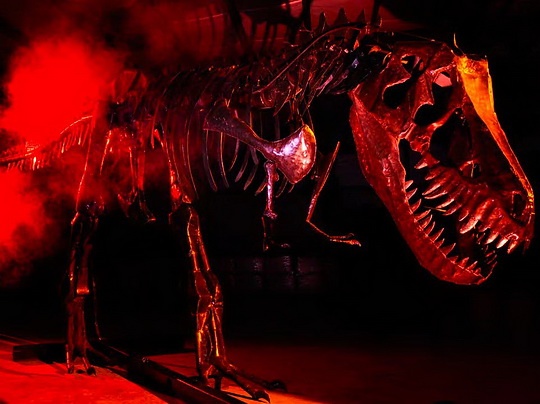 May 18-September 12, 2013
At the world premiere of Dinosaurs in Motion visitors engaged with — and learned from — 14 magnificent, life-size metal dinosaur sculptures inspired by actual fossils.
Dinosaurs in Motion sculptures take interactivity to a whole new dimension. Visitors can manipulate each dinosaur via lever-and-pulley systems or remote controls in a brand new exhibit that fuses art with traditional STEM subjects (Science, Technology, Engineering and Mathematics) for STEAM. Visitors are also taken along an apprentice's path that ends at Innovation Stations, where they can test their creativity and newfound technological inspiration with hands-on activities.
The story of the artist, North Carolina sculptor John Payne, runs through the heart of Dinosaurs in Motion. Payne was a trained metalsmith with a passion for learning and discovery. In art, he found the infinite world of expression. Payne devoted his life to creating metal kinetic dinosaurs, inspired by the universally enchanting effect dinosaurs have on people and the many hours he spent with his children admiring the dinosaurs at The Field Museum in Chicago. Recognizing an opportunity for teaching art and science, Payne blended his skills in mechanical science and artistic craftsmanship to create these wonderful dinosaur sculptures until his untimely death in 2008. A detailed look at his process, from sketches and sculptures to biomechanics and robotics, leads visitors to walk away with Payne's inspiring message: "If you can dream it, you can do it."
To view a past interview with Payne, visit http://www.youtube.com/watch?v=WdnVkVJXEPU