---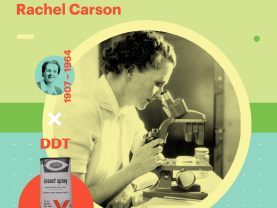 What's it all about?
We all know Marie Curie. She was a Polish/French scientist who did pioneering research on radioactivity. The first woman to win a Nobel Prize, the first person ever to win it twice, and the only person to win it in two different sciences.
She was an inspiration, a legend, and one of the greatest scientists who has ever lived.
And yet, too often, Marie Curie is the only woman in science that we know by name. The truth is, there are many female scientists, mathematicians, and engineers who have made incredible advances in their fields and never earned the recognition they deserve.
Beyond Curie is a celebration of 40 of these inspiring women. Each of these female scientists has surmounted incredible odds in the pursuit of knowledge, understanding, and impact. Their stories will take your breath away.
Beyond Curie was developed by creative director and design strategist Amanda Phingbodhipakkiya. For more information about Beyond Curie and Amanda's other work, visit beyondcurie.com and alonglastname.com.
---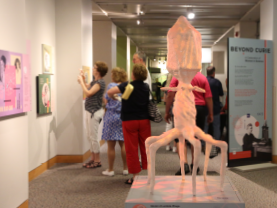 What can I see and do?
The exhibition contains vibrant full-color illustrations that feature the female scientists' portraits as well as images and design elements connected to their groundbreaking work. "Including the women's faces was important to me," says artist Amanda Phingbodhipakkiya. "I wanted to show the human side of science."
There's more to this exhibit than what's on the walls. The Museum's Exhibitions and Digital Media team, collaborating with Phingbodhipakkiya and North Carolina State University School of Sciences, have enriched the exhibition by adding content about female scientists who work at the Museum, an interactive iPad display, a few 3-D models, and a cutting-edge augmented reality app. By using the Beyond Curie augmented reality app, visitors will see beautiful 3-D animations hidden inside some of the portraits. You can download the app before viewing the exhibition by going to the app store and searching for "Beyond Curie."
---