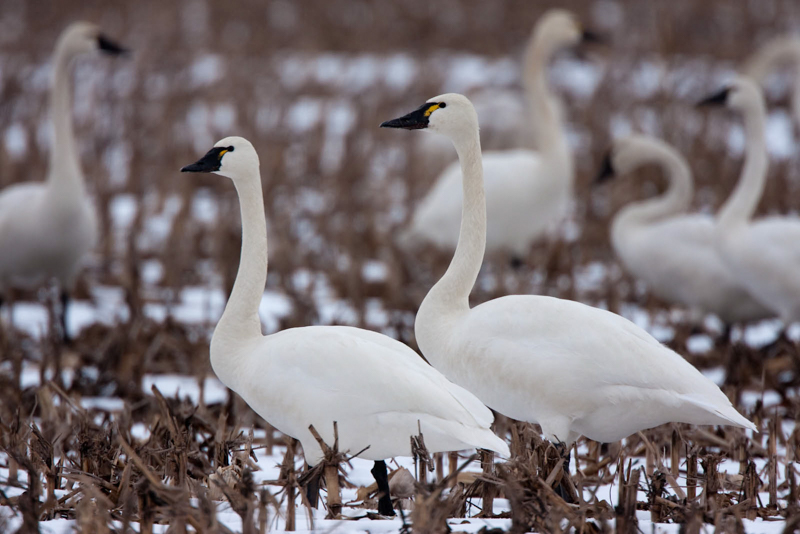 Experience one of the greatest wildlife spectacles in North Carolina – thousands of tundra swans, snow geese, and other waterfowl over-wintering in an area rich in wildlife such as black bears, bobcats, and red wolves. Learn winter bird identification, tips on preserving tracks and signs, and ideas for incorporating wild creatures into your teaching. We hope to have the opportunity to meet with red wolf biologist to learn about the restoration and monitoring work being done with this endangered species.
With support from the US Fish and Wildlife Service, Project RESTORE (Rescuing Endangered Species Through Outreach, Restoration, and Education) will feature a suite of educational opportunities for teachers and students to participate in restoration and monitoring of imperiled and endangered species in eastern North Carolina.
Credit: 20 contact hours toward CEUs or Criteria II/III for North Carolina's Environmental Education Certification Program
Lodging: The workshop fee covers a two night hotel stay near the wildlife refuge, double occupancy.
Transportation: Participants can ride with the group from Raleigh departing at 3:30 pm or meet us in Plymouth, NC in the evening. Transportation will be in Museum vans.
This workshop is full, but please sign up for the waiting list and we will notify you if there is a space!
Please note that in-person programs are subject to change or cancellation depending on COVID-19 restrictions. A full refund would be provided in event of a cancellation.