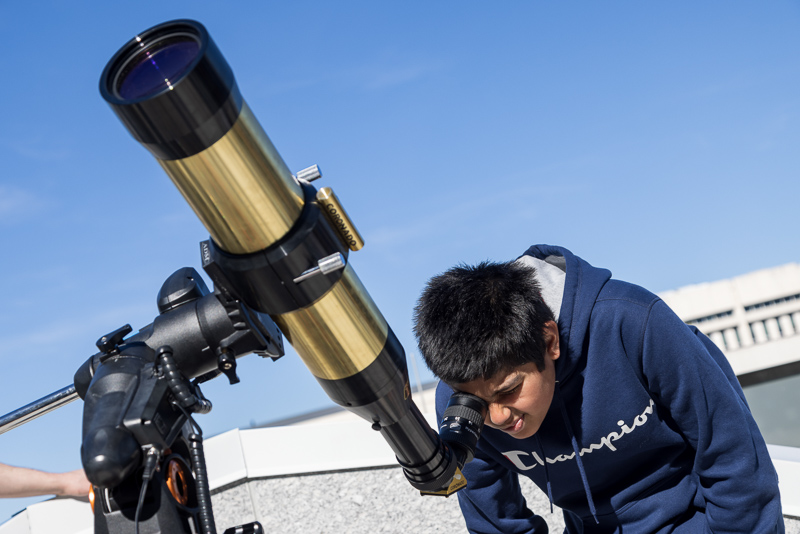 3, 2, 1 Blast Off with Marbles
Marbles Kids Museum
Play with Marbles! Train to be an astronaut and build knowledge about astronomy, space exploration & about the tools and technology that make space research possible.
Betabox Learning
How does a blue box on wheels provide hands-on learning opportunities to K-12 communities across multiple states?  Visit the Betabox exhibit to find out! Learn about their mobile labs, check out some tech in action, and get some information on whether they can bring an experience to your organization.
Cosmic Explorers
UNC-Chapel Hill Department of Physics and Astronomy
Meet astrophysicists and participate in hands-on astrophysics activities to learn more about the wonders of the Universe!
High Powered Rocketry
NC State University High Powered Rocketry Club
Learn about the hobby of High Powered Rocketry and how they use real world rocket science. Also build your own straw rockets for launching.
NASA's "Eyes"
NASA/JPL Solar System Ambassadors
NASA's "EYES" is a set of applications anyone can use at home on your Mac, PC or mobile device for visualizing just about anything in space you would want to see — in scale and real-time — even 3D. See asteroids flying by Earth, NASA spacecraft exploring the Solar System, planets and their moons, even alien planets that they've found orbiting alien stars! Created and run by NASA's Jet Propulsion Laboratory, they'll show you how to use this great tool for STEM education or just for fun!
NASA's Deep Space Network
NASA/JPL Solar System Ambassadors
NASA's Deep Space Network (DSN) sends commands and receives terabytes of data each day from spacecraft across the Solar System and beyond from the Goldstone complex near Barstow, California; in Madrid, Spain; and in Canberra, Australia. Learn how DSN supports not only probes like the Voyagers and Mars Rovers but also the Artemis program which is bringing astronauts back to the Moon.
Rockets!
NC Museum of Natural Sciences
Blast off! Shoot a rocket using a chemical reaction (alka seltzer) and see how high it flies!
Solar Observing and Astronomy at NCMNS
NC Museum of Natural Sciences Astronomy and Astrophysics Research Lab
Come get a safe glimpse of the Sun and meet the Museum's astrophysicists.
Note: Observing is weather-dependent.
Solar Observing with the Raleigh Astronomy Club
Raleigh Astronomy Club
Come take a look at the Sun (safely) and learn some solar science with the Raleigh Astronomy Club.
Stomp Rockets
NCSciFest
Join the NCSciFest team to build your own stomp rockets and see how far you can launch them!
NCSciFest partners with organizations across the state to create one of the biggest celebrations of science in the world! The month-long, statewide Festival features hundreds of events every April.
The North Carolina Science Festival is proudly produced by Morehead Planetarium and Science Center.