The 9th annual STEAM Career Showcase for Students with Disabilities, a free virtual event for learners in grades 6–12, is an opportunity to connect with role models with disabilities who have thriving careers in the fields of Science, Technology, Engineering, Arts and Math (STEAM). Learn from the keynote speaker and panelists about their personal journeys and their strategies for success. Attendees will gain practical knowledge that they can apply to their interests and future career paths.
ASL interpretation and live captions will be provided for the entire program and for each breakout room.
Schedule
1:00 pm EST: Welcome
1:10 pm EST: Keynote Presentation
1:40 pm EST: Panel Discussion
2:20 pm EST: Wrap Up
2:25 pm EST: Intermission
2:45 pm–3:15 pm EST: Breakout Sessions with Speakers
Keynote Speaker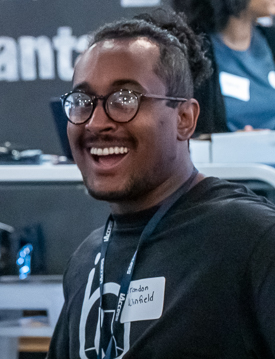 Brandon Winfield.
In 2008, Brandon Winfield (he/him) was injured in a motocross accident that left him with a thoracic spinal cord injury (paralyzed from the waist down). Only 14 years old at the time, he was faced with the decision to either let this dramatic event stop him from truly living the life he wanted or to turn it into an opportunity to triumph in the face of tragedy — Brandon chose the latter. He continued his love for racing in the form of four wheels, entered sprint kart racing, and won numerous events across the country. As he traveled, he realized that although some places he visited were compliant according to the Americans with Disabilities Act (ADA), many areas were grandfathered in and never forced to retrofit to accommodate the mobility impaired.
These experiences sparked the idea for iAccess, a mobile app that would allow people with disabilities to rate and review the accessibility of venues such as restaurants, lounges, clubs, and bars. Through his start-up, Brandon, and his co-founder Sayeed Mehrejerdian, aim to empower users to "know before they go" and feel confident making plans with their friends, colleagues, and loved ones.
---
REGISTRATION COMING SOON
Check out highlights from last year's event here!
Interested in past events? Watch the archived recordings here.
Questions?
How do I find out more?  Questions? Contact Jessie Rassau at jessica.rassau@naturalsciences.org or 919.707.9976.
Sponsorship opportunities available! Please contact Lisa Molina at lisa.molina@naturalsciences.org or 919.707.9964.
---