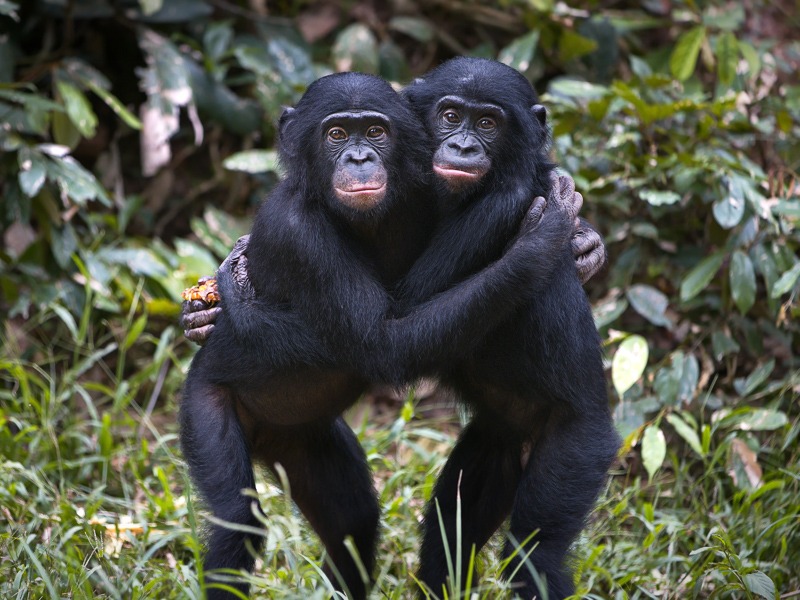 Grab a bite from the Daily Planet Cafe and join host Chris Smith and special guests for the Science Cafe. On the 3rd Thursday of every month at 7pm, gather with other curious minds at this after-hours event for an informal presentation and conversation about current science topics with guest experts. The Daily Planet Cafe is open 5–8pm with a full menu during the Science Cafe.
Join us in person in the Daily Planet Cafe, or watch the livestream on YouTube.
Tonight's Presentation
What's a bonobo? If you don't know the answer, don't worry — you're not alone. Discover the curious lives of the least-known great ape (humans' closest genetic relative), plus where they live, why they're known as "the hippie ape" AND "the Peter Pan ape," and why they're threatened with extinction.
Tonight's Expert
Karen Kemp is a storyteller and strategic communicator whose work amplifies the impact of environmental organizations. She visited the world's only bonobo sanctuary and sole bonobo rewilding site in the Democratic Republic of the Congo and works with Friends of Bonobos, a conservation nonprofit in Congo. Previously she was a journalist, led communications and marketing for Duke University's Sanford School of Public Policy and led communications for the NC Museum of Natural Sciences. To chronicle Museum curators' research, she accompanied them on projects in western North Carolina bogs (turtles), South Carolina swamps (bats), and an ocean research vessel off the coast of Florida (fish and marine life).