Juneteenth Time Machines, Nature Connections, and the Technoscience of Ruth E. Carter's Designs
Grab a bite from the Daily Planet Cafe and join host Chris Smith and special guests for the Science Cafe. On the 3rd Thursday of every month at 7pm, gather with other curious minds at this after-hours event for an informal presentation and conversation about current science topics with guest experts.
Join in-person or watch live on YouTube.
Tonight's Presentation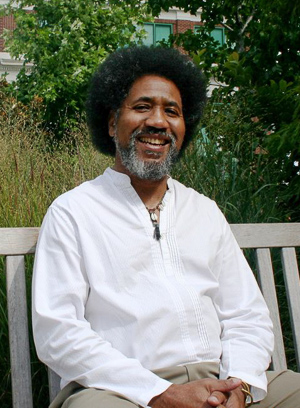 Explore the interconnectedness of freedom, science, nature, and the arts through the lens of Afrofuturism as the Science Café celebrates Juneteenth with scientist and poet Darrell Stover, in collaboration with the NC Museum of Art.
Afrofuturism is an interdisciplinary movement and aesthetic that re-imagines and empowers the Black experience across the globe often through themes of science, sci-fi, and technology.
Ruth E. Carter: Afrofuturism in Costume Design, on view now through August 6, 2023, at the NC Museum of Art, highlights the work of the Academy Award-winning designer for films such as "Amistad," "Selma," and "Black Panther." Carter's attention to race, history, and politics, and inspiration from Africa's natural and cultural diversity — from the use of indigo dyes to the "sacred geometry" of the Black Panther suit — provides vibrant examples of how Afrofuturism weaves together science, nature, history, and culture.
The Daily Planet Cafe is open 5–8pm with a full menu during the Science Cafe.
Tonight's Expert
Darrell Stover is a cultural historian, science communicator and performance poet with the DNA of a trickster. Currently, Darrell is the Head of the Science Museums Grant Program at the North Carolina Museum of Natural Sciences. He also teaches courses at NC State University on  Afrofuturism and Science, Technology and Society at NC State University.
Darrell served as program director at both the Hayti Heritage Center in Durham, NC and the North Carolina Humanities Council. He researched and produced "Run on Water," a multimedia history project that examined the Black experience during the Civil War in coastal North Carolina and captures that wonderous moment of transition from enslavement to emancipation.