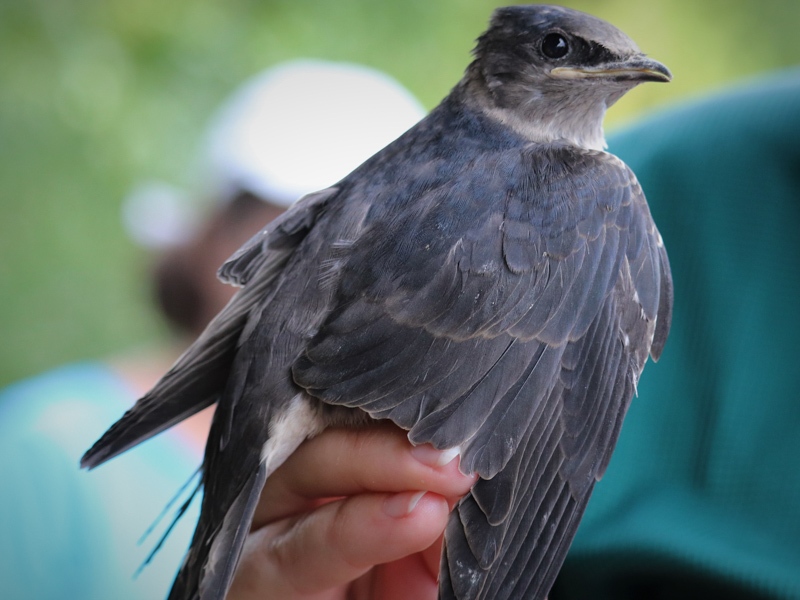 Juvenile Purple Martin. Photo: Anna Slayton.
We're banding our Purple Martins, and you're invited to come watch! Museum ornithologists will weigh, measure, and band the Purple Martin chicks in the Prairie Ridge colony. Learn how banding works, why we band birds, and get to see Purple Martins up close!
The Purple Martin is a migratory songbird that breeds across much of the Eastern US. The NC Museum of Natural Sciences, with support from Wake Audubon and the NC Purple Martin Conservation Association, has installed three gourd complexes that are hosts to nesting Purple Martins.
June is baby Martin month in our area! For this event, we will lower the gourds to remove nestlings, take measurements, attach small tags and return them to their respective gourd. We will have a lot of information about this species, including how to be a "Martin landlord," to share with participants. Instructors will discuss what bird "banding" (tagging) is, why we do this and what we can learn from it.
The gourd arrays are located alongside the Outdoor Classroom building, which is about 200 meters south of the parking lot. Visitors can park, then follow the gravel/hard dirt path south (past the kiosk/gate) to come to our location.
What to bring: A water bottle and sun hat. We are working in one small area that is short grass, not walking the paths around the property. There are opportunities for photographing both the adult and nestling Martins. You may wish to hike the property after you have experienced the Purple Martins.
This program is suitable for all ages. Children under 16 must be accompanied by an adult.