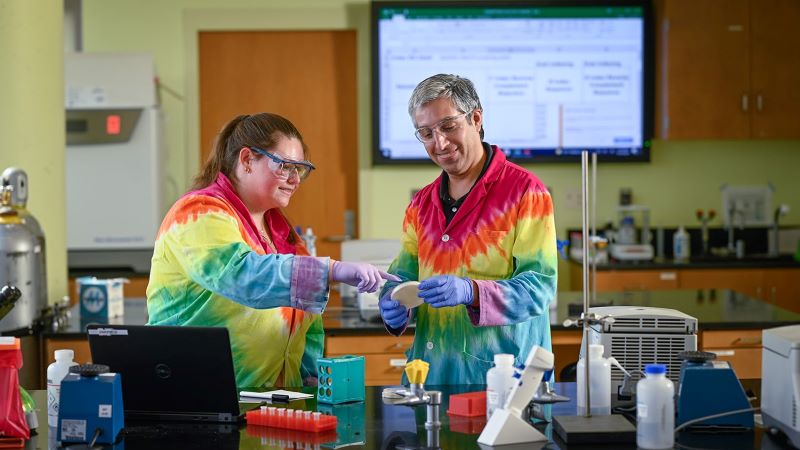 Photo: Emily Packard.
Have you ever wanted the opportunity to talk directly with professionals with diverse backgrounds, experiences, and expertise in STEAM fields? Now is your chance! Professional Previews is a virtual program that will feature guests from a variety of fields answering questions about their jobs, career paths, and fun, random facts about themselves.
Join us to learn more about microbiology with Dr. Carlos Goller!
Dr. Carlos Goller is an Associate Teaching Professor in the Department of Biological Sciences and teaches in the Biotechnology Program at North Carolina State University. He has many research interests including microbiology, epidemiology, the history of diseases, and more. Born in Mexico, he was introduced to his current career path by his high school biology teacher before moving to the US for college. He now spends his time teaching, doing research, and mentoring students to foster that same connection he had growing up.
Carlos has a passion for making science open and accessible for everyone. Sometimes, the amount of data required for a research project is too much for one team. Citizen science projects like "Where's Delftia?", which is dedicated to finding a gold-pooping microbe on NC State's campus, are one way to increase exposure and involvement in STEM. Join us to learn how Carlos intertwines microbiology, citizen science, genomics, and a unique teaching philosophy to make science more inviting!"
---
Professional Previews will take place on Zoom. Programs are recorded and registrants can access previous topics.
We recommend this program for middle school and up, but all ages are welcome. Parents and teachers are invited to participate with their children or students.