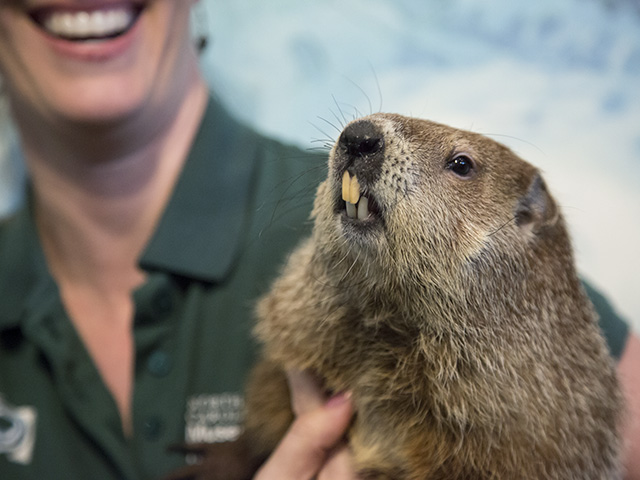 Meet Sir Walter Wally the groundhog and get his prognostication for the next six weeks!
The Shadow Ceremony is at noon on the Bicentennial Plaza, right in front of the Museum, and features Nancy McFarlane, Mayor of Raleigh, as this year's "Groundhog Whisperer." Come out and see whether Wally can continue his climb up the Weather Channel's prestigious list of top "Groundhogs to Watch"!
Exhibits
History of Groundhog Day
Ever wonder how Groundhog Day came to be? You'll learn about the history of Groundhog Day, and get to meet one of the original animals that was used to predict an early (or late) spring.
Groundhog Toss Game
These groundhogs think there are six more weeks of winter headed their way. Help them get back in their burrow!
Animal Architects
Groundhogs burrow into the earth to create their home. Learn about other animals that build their homes in the ground.
Animals in Winter
Groundhogs hibernate for winter, but how do other animals survive the cold?
How Snakes Survive the Winter
Reptiles depend on their environment to stay warm, so what do they do when it gets cold?
Signs of Spring
Ready for warmer weather? Find out what signs nature provides when spring is on its way!
Groundhog Hats
Get ready for the shadow ceremony by making your own groundhog headbands!
Meet the Groundhog
See Sir Walter Wally up close and learn about the importance of wildlife sanctuaries.
*Plus, don't miss our amazing lineup of Windows on the World presentations on the third floor on the Nature Exploration Center. These programs feature live animals in an exciting, kid-friendly format.