The Museum is participating in First Night Raleigh and the Children's Celebration. The Nature Exploration Center (NEC) will be open to the general public from 9am to 6pm.  From 6pm to 10pm, visitors will need a First Night button to enter the NEC.
From 2pm to 6pm, Children's Celebration activities will take place within the Museum but visitors will need to purchase a First Night button (available in the Museum Store and at various venues throughout Raleigh; check website for details) in order to participate.
All activities are in the Nature Exploration Center. The Nature Research Center closes to the public at 5pm.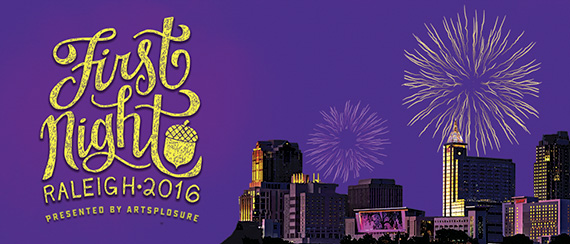 Animal of the Hour is open to all visitors; no button required!
---
The Extreme Mammals featured exhibition will also be open late, until 7pm. Last entry at 6pm. First Night button holders receive a discount!
Frame It!
Third Floor Classroom Alcove
2pm–6pm
Take home a small copy of a masterpiece from the NC Museum of Art.  You create the frame!
The Happy Accidents Enloe High School Improv Troupe
First Floor Lobby
2pm–6pm
Interactive fun with High School Improv!
Recharging Station
First Floor Lobby
2pm–6pm
Bring your electronic device by and get a CHARGE to keep up with all the action!
Henna Tattoos
First Floor
2pm–5:30pm
Join India's own Deepika Bhatt for a beautiful tradition, and just in time to get ready for the New Year!
Andy Griffith Movie Marathon
WRAL Auditorium
5:30pm–7:30pm
"No Time for Sergeants" (1958)
One of Andy's funniest films—join Air Force draftee Will Stockdale in this Ira Levin classic.
8pm–10pm
"A Face in the Crowd" (1957)
An Arkansas hobo (Lonesome Rhodes, played by Andy Griffith) becomes an overnight media sensation. But as he becomes drunk with fame and power, will he ever be exposed as the fraud he has become?
Photo Opportunity with North Carolina Firsts
Mountain Cove (Third Floor)
3:30pm & 5pm
Come and take your photo with a real life North Carolina First.
Animal of the Hour
Windows On the World (Third Floor)
2pm, 3pm, 4pm & 5pm
Get up close and personal with some of North Carolina's resident creatures.
Tom Benn and Blackbeard the Pirate
Explore on Four (Fourth Floor)
4pm
Performed by the North Carolina Marionette Theatre of the Outer Banks.