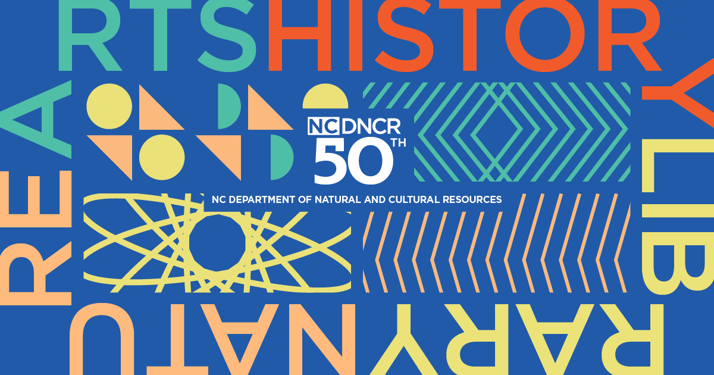 The N.C. Department of Natural and Cultural Resources will host a virtual program, "DNCR 50th Trivia Night," Monday, Nov. 28, 6-7:30 p.m.
Celebrate the Department of Natural & Cultural Resources' 50th anniversary with fun facts about its sites and collections!
A cross-divisional Trivia Team — Chris Smith of the Museum of Natural Sciences, Josh Hager and Katie Crickmore of the State Archives, and Erin Holmes of the State Library — will host, and DNCR Secretary Reid Wilson will introduce the event. DNCR's staff from state parks, the zoo, aquariums, branch history museums, state historic sites, and the African American Heritage Commission have contributed questions to test your knowledge.
Think you're an expert on DNCR? Here's your chance to win bragging rights!
About the North Carolina Department of Natural and Cultural Resources
The N.C. Department of Natural and Cultural Resources (NCDNCR) is the state agency with a vision to be the leader in using the state's natural and cultural resources to build the social, cultural, educational and economic future of North Carolina. NCDNCR's mission is to improve the quality of life in our state by creating opportunities to experience excellence in the arts, history, libraries and nature in North Carolina by stimulating learning, inspiring creativity, preserving the state's history, conserving the state's natural heritage, encouraging recreation and cultural tourism, and promoting economic development.
NCDNCR includes 27 historic sites, seven history museums, two art museums, three science museums, three aquariums and Jennette's Pier, 41 state parks and recreation areas, the N.C. Zoo, the N.C. Symphony Orchestra, the State Library, the State Archives, the N.C. Arts Council, the African American Heritage Commission, State Preservation Office and the Office of State Archaeology, and the Division of Land and Water Stewardship. For more information, please visit www.ncdcr.gov.