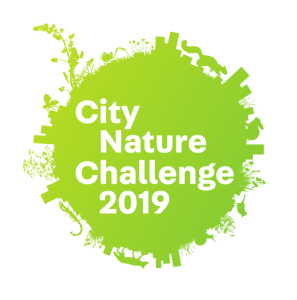 Want to help show the rest of the world just how amazing North Carolina's citizen scientists are? Join the NC Museum of Natural Sciences for the City Nature Challenge! This competition pits several American cities against each other to see who can document the most biodiversity on the iNaturalist app over a 4-day period. We're going up against cities that are a lot bigger than we are (Los Angeles, Miami, San Francisco, Chicago, Boston, Hong Kong, London, and others), but North Carolina's amazing biodiversity and the great urban wildlife we see every day can help us win!
We likely need over 30,000 submissions to have a shot of taking home the gold, so we need YOUR help snapping photos of Triangle Area plants, animals, or fungi between April 26-29 and submitting them online. We've got some great prizes for the top three local contributors as a thank you, too!
You can participate in the City Nature Challenge: Triangle Area by doing the following:
Join us in person downtown or at Prairie Ridge Ecostation. See the Activity Schedule below for details. (Coming soon!)
Visit any outdoor space in the Triangle Area from April 26 to 29, take photos of the plants, animals, and fungi you see, and submit them to iNaturalist on your own! Download the iNaturalist smartphone app for Android or Apple and submit as you go or carry a camera with you and upload them through the website by noon on May 2.
Follow along with the local event, view our local leaderboard, or check out the map of the area that's included at https://www.inaturalist.org/projects/city-nature-challenge-2019-triangle-area. You can see how we're stacking up against our competition on the national leaderboard during the event.  Socialize with other Triangle Area City Nature Challenge participants through our Facebook group.
Want to get ready for the City Nature Challenge: Triangle Area now? Create an iNaturalist account (it's free!) through the website or the smartphone app and practice submitting your sightings so you're ready to help us win. Need help getting your iNaturalist account set up or using the website/app? Download a printable quick guide for iPhone and Android smartphones that will walk you through the basics.
Scheduled Museum activities will be listed below as they are confirmed. Thanks for helping us show off our local citizen scientists in the City Nature Challenge: Triangle Area!
Activity Schedule
The following activities are part of the City Nature Challenge 2019 Triangle Area.
Museum Programs
Prairie Ridge Ecostation
1671 Gold Star Drive, Raleigh
All Prairie Ridge programs will start in the Outdoor Classroom at the times specified.  Bring a smartphone or tablet with the iNaturalist app downloaded and create an account prior to attending for the best experience.  Don't have a smartphone/tablet?  Bring your own camera or borrow one of ours!
Saturday, April 20:
9:30-11:30: Introduction to iNaturalist
Friday, April 26:
1:00-4:00pm: Tweens and Teens for Citizen Science
8:30-10:30pm: Nighttime Insects
Saturday, April 27:
9:30-4:00: City Nature Challenge table
9:30-10:30am: Aquatic Animals
10:30-11:30am: Biodiversity Walk
11:30-12:30pm: Micro World – The Tiny Species of Prairie Ridge
1:00-2:00pm: Biodiversity Walk
2:00-3:00pm: Birds (camera with telephoto capability recommended!)
3:00-4:00pm: Reptiles and Amphibians
Sunday, April 28:
12:30-4:30: City Nature Challenge table
12:30-1:30pm: Biodiversity Walk
1:30-2:30pm: Trees
2:30-3:30pm: Biodiversity Walk
3:30-4:30pm: Insects
Other Programs
Cape Fear Botanical Garden
536 N. Eastern Blvd, Fayetteville, NC
Monday, April 29, 2:00-3:00pm
Homeschool children will take part in documenting the biodiversity of Cape Fear Botanical Gardens.  Registration is required through their online form.  The program is free with Garden admission.
Chapel Hill Public Library
100 Library Drive, Chapel Hill, NC
Saturday, April 27, 2:00-4:00pm
Chapel Hill Public Library has teamed up with the North Carolina Entomological Society to do a Bug Bioblitz of Pritchard Park, just outdie the library!  Find, photograph, and learn about the many insects that can be found in the Triangle Area with professional entomologists.  More information and a registration form for this free event are available on the Library website or on the Facebook event listing on the NC Entomological Society's page.
Horton Grove Nature Preserve
7360 Jock Rd, Bahama, NC
Sunday, April 28, 12:00-1:30pm
Triangle Land Conservancy is holding a guided walk of Horton Grove Nature Preserve.  The preserve has a great diversity of habitats which support a wide variety of species.  This program will begin with an introduction to using iNaturalist and a walk that will introduce you to many species on the preserve.  The program is free, but pre-registration is required.  You can also follow the program on Facebook.
North Carolina State University
Stafford Commons
Sunday, April 28, 10:00am-12:30pm
The Citizen Science Club at NCSU is holding a campus biodiversity walk for NCSU students, educators, and supporters. Join them at Stafford Commons at 10am on Sunday, April 28 to help them document the diversity of the NCSU campus!  You can learn more or ask questions via their Facebook announcement.
Piedmont Wildlife Center
364 Leigh Farm Rd, Durham
Thursday, April 25, 5:30-8:30pm
Stop by the Piedmont Wildlife Center's spring Bioblitz for a tutorial on how to use iNaturalist or to pick up quick guides for Apple and Android phones.  You can also join naturalist-led diversity walks at Leigh Farm Park to get to know some of the local species to prepare for the City Nature Challenge, though the Challenge does not begin until the following day. More information is available on the PWC website.
Turnipseed Nature Preserve
7100 Hunt Valley Trail, Wendell NC
Saturday, April 27, 9:00am-12:00pm
Join Nate and Suzanne Hartley at Turnipseed Nature Preserve to document the species of Wake County's newest nature preserve!  Meet at the Hunt Valley Trail entrance at 9am to meet up with your guides.  This is a great opportunity to learn about North Carolina's native and invasive plants and how to photograph them well!  Note that Turnipseed has no bathrooms or water, so please come prepared.
Umstead State Park
Reedy Creek Entrance, far end of the parking lot
Sunday, April 25, 9:00-11:00am
Nature & You at NCSU is hiking Umstead State Park and documenting the species they find there.  Text Charmaine Pedrozo at (904) 713-5902 to let her know if you're interested in joining them!  You can also follow their progress via their iNaturalist project.