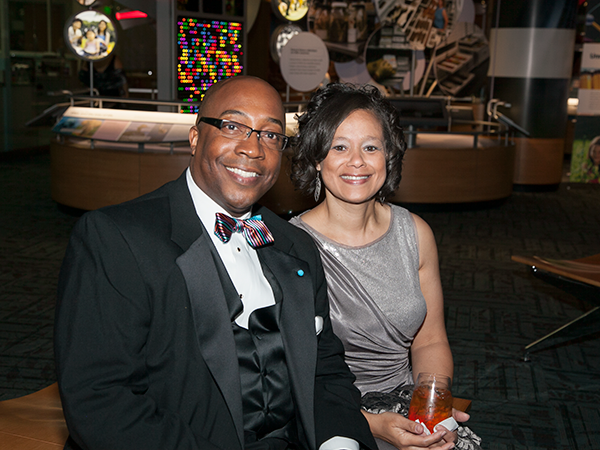 The Society
You are cordially invited to honor the Museum's founders, H.H. and C.S. Brimley, by supporting the most visited museum and top fieldtrip attraction in North Carolina. Help usher in a new era of exploration reminiscent of the Brimley brothers' historic yet uniquely modern approach to science. The Brimley Society, launched in 2005 to recognize the Friends of the Museum's most dedicated supporters, was named after the founding fathers of the North Carolina Museum of Natural Sciences.
Join or renew Brimley Society Membership
Contributions from Brimley Society members, our most committed supporters, help supplement the Museum's free admission and affordable programs, ensuring that every visitor entering our doors has the opportunity to experience cutting-edge science in myriad ways. Proceeds from the Brimley Society sustain the Friends' ongoing efforts to support the Museum's educational program, research and exhibits.
A perfect blend of membership and philanthropy, your Brimley gift helps the Museum offer an array of presentations, events, exhibitions and educational programs, including:
Astronomy Days, Reptile and Amphibian Day, BugFest and more;
Outreach programs for underserved communities;
Public presentations by world-renowned scientists; and
A wide variety of fun and educational summer camps.
Beyond the satisfaction of giving, the Brimley Society adds value with exclusive benefits available only to Brimley donors. A full list of benefits at all Brimley levels is available here. In appreciation of your support, you may choose to receive the following Brimley Society Benefits:
Invitations to exclusive Brimley events and educational programs;
Discounted admission to signature opening events;
Free admission to special exhibitions, plus six (6) guest passes to share with family and friends;
Six (6) movie passes to the WRAL 3D Digital Theater;
Recognition on Brimley Society plaque and website and in North Carolina Naturalist magazine;
20% discount in Museum Stores and 15% discount in Nature Art Gallery;
Smithsonian Affiliate Membership, including a subscription to Smithsonian Magazine, a 10% discount at Smithsonian Museum stores, a 10% discount on all Smithsonian IMAX tickets; and
25% discount on rental fee to use the Museum for your event.
The Brimley Society also includes the following Friends of the Museum benefits:
The stunning North Carolina Naturalist magazine
Behind-the-Scenes Tours led by Museum staff and researchers;
Hospitality area for members at select public events like BugFest and Astronomy Days;
Discounts on classes, workshops, trip and birthday parties;
Discounts and priority registration on Summer Camps.
For questions about Brimley membership, contact Sarah Lowder at 919.707.9826, or sarah.lowder@naturalsciences.org.
Join or renew Brimley Society Membership
Brimley Society Member - $1000-$2499*
Brimley Society Associate - $2500-$4999*
Brimley Society Patron - $5000-$9999*
Brimley Society Sponsor - $10,000 and above*
* All donations are tax-deductible to the extent allowed by law. The total fair market value of Brimley benefits is $109 (free admission to special exhibitions, WRAL 3D Movie passes, guest passes to special exhibitions, and Smithsonian Affiliates Membership). You may increase the tax-deductibility of your gift by opting out of these benefits. (You will continue to receive the North Carolina Naturalist magazine.) Please type Waive Benefits in the comments box on the on-line pledge form, check the appropriate box on the printed pledge form, or contact us at 919.707.9855 or barbara.osbeck@naturalsciences.org.