For immediate release ‐ February 28, 2017
Contact: Emelia Cowans, 919.707.9837. Images available upon request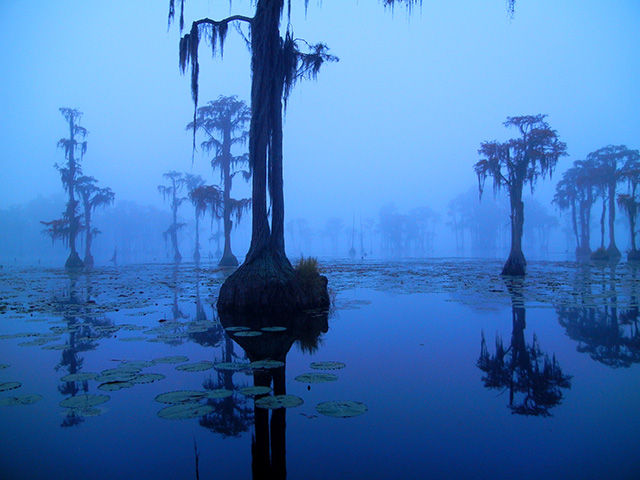 RALEIGH — The North Carolina Museum of Natural Sciences' Nature Art Gallery presents "Illuminations: Intimate Portraits of Mother Nature," by Richard Mathis. The photography show runs Friday, March 3 through Sunday, March 26. A reception for the artist will be held Saturday, March 4, 2–4 p.m. inside the Gallery.
Mathis' landscape portraits of Mother Nature have won awards in fine art shows juried by curators Stanley Knick of the Museum of the Southeastern Indian, Jennifer Dasal of the North Carolina Museum of Art, and Will South of the Columbia Museum of Art. Art galleries and Artists of the South Magazine selected Mathis as an Emerging Artist for his artistic landscapes of the southeastern United States. He took to photography in his late 50s in response to a Zen teacher that asked him, "Isn't it time you went out into the world and discovered it anew?" That day he went out and started snapping photos with a camera his children had given him for a birthday gift.
"The 'wow' experience is the highest form of worship for me," says Mathis. "All art imitates nature and my photography is but a mirror bearing witness to the incredible aesthetics and composition found throughout nature." Mathis lives in Pembroke, North Carolina, where he is the official photographer for the Lumbee Tribe of North Carolina, covering a wide array of events including powwows and pageants.
The Nature Art Gallery is located on the top floor of the Museum Store (1st floor, main building). Store hours are Monday through Friday, 10 a.m. to 4:45 p.m.; Saturday, 9 a.m. to 4:45 p.m.; and Sunday, noon to 4:45 p.m. All exhibited art is for sale.  For more information about the Nature Art Gallery, call 919.707.9854.
---
The North Carolina Museum of Natural Sciences (11 W. Jones St. and 121 W. Jones St.) in downtown Raleigh, is the state's most visited cultural attraction. It is an active research institution that engages visitors of every age and stage of learning in the wonders of science and the natural world, drawing them into the intriguing fields of study that are critical to the future of North Carolina. Hours: Mon.- Sat., 9 a.m.-5 p.m., and Sun., noon-5 p.m. Admission is free, however donations are appreciated and accepted. Visit the Museum on the Web at www.naturalsciences.org. Emlyn Koster, PhD, Director; Susi H. Hamilton, Secretary, N.C. Department of Natural and Cultural Resources; Roy Cooper, Governor.