For immediate release ‐ February 08, 2016
Contact: Emelia Cowans-Taylor, 919.707.9837. Images available upon request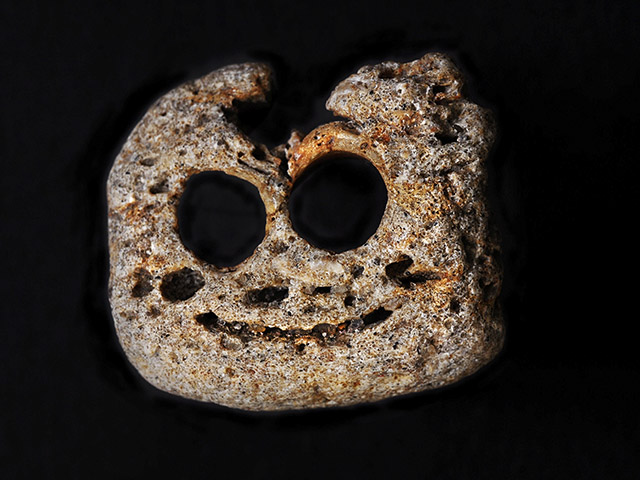 RALEIGH—The North Carolina Museum of Natural Sciences' Nature Art Gallery presents "Beach~Headz: North Carolina Marine Fossil Portraits," by Rick Jackson, First Friday, February 5 through February 28. Jackson will attend a reception in his honor on opening night from 6 to 8 p.m. inside the Gallery.
Beach~Headz are naturally formed faces in the eroded shells and fossilized clams found on the beaches of North Carolina, particularly Topsail Island. Jackson is a photographer and avid beachcomber who has collected these faces for several years now. A 60mm macro lens was crucial in providing detail for these minute faces, which range roughly in size from a dime to a silver dollar. A strobe and warm-filtered LED lights were specifically positioned to create a distinct personality in each face. They were photographed against a black background for dynamic contrast and a portrait-like effect.
"No specimen was physically or digitally manipulated to create or colorize a face," says Jackson. "They are just as I found them, perfectly imperfect and totally unique. Their amazing array of colors, textures, and complex patterns continues to surprise and delight me. Truly, Mother Nature is the ultimate artist."
The Nature Art Gallery is located on the top floor of the Museum Store, (1st floor, main building). Hours are Monday through Saturday, 9 a.m. to 4:45 p.m.; Sunday, noon to 4:45 p.m.; and open until 9 p.m. on First Fridays. All exhibited art is for sale. For more information about the Nature Art Gallery, call 919.707.9854.
---
First Friday is a free, family-friendly social event held the first Friday of each month at the N.C. Museum of Natural Sciences in downtown Raleigh. Visitors can enjoy exhibits, shopping, food and spirits until 9 p.m. The Natural Horror Picture Show (a vintage, sci-fi flick of 'B' movie caliber) begins at 7 p.m. Arrive early for live music and a film short from the A/V Geeks archive. For information, call 919.707.9800.
The North Carolina Museum of Natural Sciences (11 W. Jones St. and 121 W. Jones St.) in downtown Raleigh, is the state's most visited cultural attraction. It is an active research institution that engages visitors of every age and stage of learning in the wonders of science and the natural world, drawing them into the intriguing fields of study that are critical to the future of North Carolina. Hours: Mon.- Sat., 9 a.m.-5 p.m., and Sun., noon-5 p.m. Admission is free. Visit the Museum on the Web at www.naturalsciences.org. Emlyn Koster, PhD, Director; Susan Kluttz, Secretary, N.C. Department of Natural and Cultural Resources; Pat McCrory, Governor.
About the North Carolina Department of Natural and Cultural Resources
The N.C. Department of Natural and Cultural Resources (NCDNCR) is the state agency with a vision to be the leader in using the state's natural and cultural resources to build the social, cultural, educational and economic future of North Carolina. Led by Secretary Susan Kluttz, NCDNCR's mission is to improve the quality of life in our state by creating opportunities to experience excellence in the arts, history, libraries and nature in North Carolina by stimulating learning, inspiring creativity, preserving the state's history, conserving the state's natural heritage, encouraging recreation and cultural tourism, and promoting economic development.
NCDNCR includes 27 historic sites, seven history museums, two art museums, two science museums, three aquariums and Jennette's Pier, 39 state parks and recreation areas, the N.C. Zoo, the nation's first state-supported Symphony Orchestra, the State Library, the State Archives, the N.C. Arts Council, State Preservation Office and the Office of State Archaeology, along with the Division of Land and Water Stewardship. For more information, please call (919) 807-7300 or visit www.ncdcr.gov.