For immediate release ‐ April 21, 2017
Contact: Jon Pishney, 919.707.8083. Images available upon request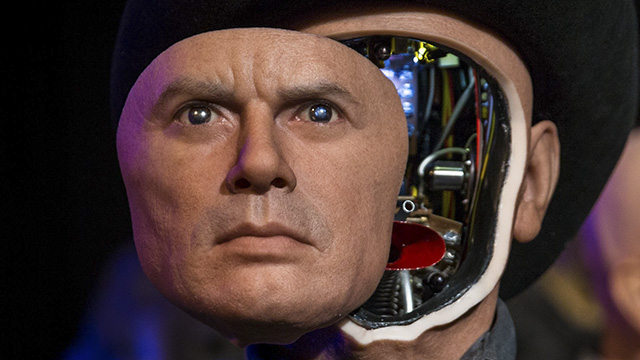 RALEIGH, N.C. — Welcome to Westworld, the ultimate resort. Where vacationers can live out their every fantasy in worlds of the past, maintained by reliable computer technology and peopled by lifelike robot men and women. And where nothing can possibly go worng … until a rogue robot gunslinger decides it's time to turn the tables. Don't miss the original 1973 film "Westworld," showing at the North Carolina Museum of Natural Sciences Friday, April 28, 7 p.m. Science stations — highlighting cyborgs, Turing tests and the Wild West — plus food and drink options start at 5:30 p.m.
"Westworld" (PG-13) stars Richard Benjamin and James Brolin, two unlucky vacationers that are just getting the hang of their expensive experience in the lawless American frontier of 1880 when robot-turned-stalker (Yul Brynner) gets tired of getting shot up and starts taking matters into his own hands. "Westworld" was written and directed by Michael Crichton and was recently adapted into an HBO original series. Of course, Crichton used a similar plot line, about an amusement park that goes horribly wrong, for his novel and eventual hit film "Jurassic Park" (1993).
Brynner is perhaps best known for his Oscar-winning performance as the King of Siam in "The King and I," a role he first perfected on Broadway. But many of his film characters were memorable, including Rameses in "The Ten Commandments" (1956), Dmitri in "The Brothers Karamazov" (1958) and Chris Larabee Adams in "The Magnificent Seven" (1960). Brolin's most recognizable role, beyond being Mr. Streisand, is probably as Dr. Marcus Welby's young assistant Dr. Steven Kiley in the long-running television series "Marcus Welby, M.D." (1969-76).
Starting at 5:30, explore robot-themed science stations while enjoying live music, popcorn, Carolina-style hotdogs and drinks — including local craft beers. At 7 p.m., the Museum shows "Westworld," then after the show, hear from Aaron Poteate, co-coordinator of the Museum's Visual World Investigate Lab, as he sorts out the science from the cinema in "Westworld."
Final Fridays take place on the last Friday of each month. A/V Geeks' Skip Elsheimer provides a fun night of trivia and tongue-in-cheek commentary on not-so-mainstream movies as well as samples from his vault of 24,000 short films. Movies are also complemented by experts and hands-on science stations related to each night's theme. Dinner (such as sliders or tacos), drinks (including NC beer and wine) and popcorn will be available for purchase before the show. Doors open at 5:30 p.m., movies and presentations begin at 7 p.m. Admission: $5/person. For more information, a list of future Final Fridays, or to buy tickets, visit naturalsciences.org/finalfridays.
---
The North Carolina Museum of Natural Sciences (11 and 121 W. Jones St.) in downtown Raleigh is an active research institution that engages visitors of every age and stage of learning in the wonders of science and the natural world, drawing them into the intriguing fields of study that are critical to the future of North Carolina. Hours: Mon.– Sat., 9 a.m. –5 p.m., and Sun., noon–5 p.m. Visit the Museum online at www.naturalsciences.org. Emlyn Koster, PhD, Museum Director.