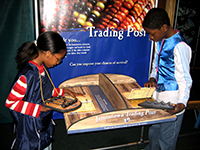 What's it all about?
Take a trip to the risky, rugged, realities of colonial America, 1607. Can you survive the year? Only 38 of the 104 English colonists did! Step into their shoes and navigate the bewildering landscape that bedeviled so many – your next decision could mean life or death!
Come experience this immersive, educational, role-play adventure created by Minotaur Mazes and the Virginia Living Museum.
---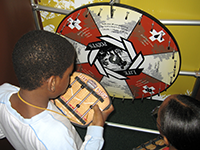 What Can I See and Do?
Wind your way through interactive galleries in this adventurous maze of colonial America. At each turn, you will meet a quest—navigate a terrain, make decisions, build a fort, and more! Carry your very own telltale Life Chart to track your health points at over two dozen challenges including a zip-line and climbing wall.
With a little luck, and most likely a few attempts, you may survive this American adventure.
---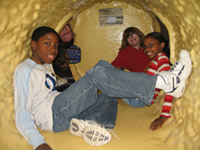 Special Events
Grand Opening, Saturday June 18, 10am to 3pm
Take a trip through the American Adventure survival maze then test your hand at historical survival skills, from navigation to rope-making, plus hands-on activities and take-home crafts.
Pioneer Night: Do You Have What It Takes?, Thursday July 21, 6pm to 8pm
Join us for Pioneer Night as we build skills to survive with hands-on activities, games and more.
---