For immediate release ‐ February 03, 2017
Contact: Jon Pishney, 919.707.8083. Images available upon request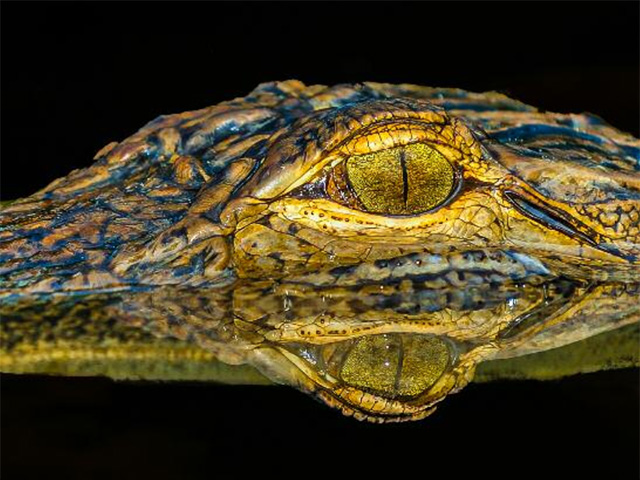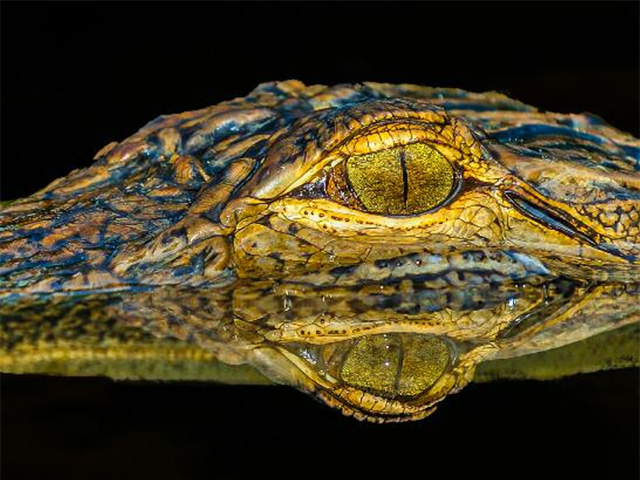 RALEIGH, N.C. — A stunning close-up of a partially submerged alligator in a Brunswick County pond took top honors in the North Carolina Wildlife Resources Commission's 12th Annual Wildlife in North Carolina magazine photo competition. Frank Ellison, of Clemmons, won the grand prize for his portrait of "One Eye," an American alligator so named because it has only one eye, an injury that Ellison speculates it sustained while defending its territory. All winning photographs, including honorable mention selections from the two youth categories, will be on exhibit at the North Carolina Museum of Natural Sciences beginning February 3, 2017.
"One Eye" marks the second year in a row Ellison has won the competition after taking top honors in 2015 for his detailed photograph of an assassin fly. Although Ellison is the contest's only two-time grand prize winner, Randolph County photographer Eric Abernethy won two first prizes this year — in the Reptiles and Amphibians category with a photo of a pregnant timber rattlesnake and in the Wild Plants category with his photograph of raindrops on lily pads.
Other first place winners, by category:
Birds: Jim Parnell, Wilmington, eastern wild turkey in wheat
Mammals: Bobby Nicks, Cary, elk eating grass
Invertebrates: Alan Clark, Raleigh, spider spinning a web in Durham County
Wild Landscapes: Carey Plemmons, South Mills, Frisco Pier during a winter storm
Outdoor Recreation: Daniel Pullen, Buxton, a surfer at sunset
Animal Behavior: Frank Clemmensen, Durham, two grasshoppers mating
Youth Photographer 13-17: Josh Hunter, Salisbury, a silver-spotted skipper on a plant
Youth Photographer 12 and under: Tyler Jernigan, Snow Hill, an eastern hognose snake
All winning images are also viewable on the Wildlife Commission's website at www.ncwildlife.org.
---
The North Carolina Museum of Natural Sciences (11 W. Jones St. and 121 W. Jones St.) in downtown Raleigh is an active research institution that engages visitors of every age and stage of learning in the wonders of science and the natural world, drawing them into the intriguing fields of study that are critical to the future of North Carolina. Hours: Mon.- Sat., 9 a.m.-5 p.m., and Sun., noon-5 p.m. Visit the Museum online at www.naturalsciences.org. Emlyn Koster, PhD, Museum Director.
The N.C. Department of Natural and Cultural Resources (NCDNCR) is the state agency with a vision to be the leader in using the state's natural and cultural resources to build the social, cultural, educational and economic future of North Carolina. NCDNCR's mission is to improve the quality of life in our state by creating opportunities to experience excellence in the arts, history, libraries and nature in North Carolina by stimulating learning, inspiring creativity, preserving the state's history, conserving the state's natural heritage, encouraging recreation and cultural tourism, and promoting economic development. For more information, visit www.ncdcr.gov.