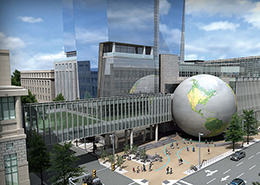 Downtown Raleigh
Nature Exploration Center (NEC)
11 West Jones Street
Raleigh, NC 27601
Phone: 919.707.9800
Get Directions
Nature Research Center (NRC)
121 West Jones Street
Raleigh, NC 27603
Phone: 919.707.8080
Get Directions
Car Parking
Parking is available weekdays in several public pay parking decks within walking distance of the Museum.
An above-ground lot is located one block east of the Museum, with entrances on Jones and Edenton Streets.
The Green Square parking deck is at the corner of Edenton and McDowell Streets, behind the Nature Research Center (NRC). The entrance to the deck is on Edenton between Salisbury and McDowell Streets. Exit the deck on the north side and you will be at the back entrance to the NRC.
Limited metered parking is available along Jones and Edenton Streets. Parking is free and abundant on weekends.
For parking choices within walking distance of the Museum, see the Downtown Map. Note: Parking rates at all Downtown State Government Complex parking facilities are $2/hour.
Bus Parking
Bus loading and unloading is available on Jones Street near the Nature Exploration Center entrance. A free bus parking area is located two blocks from the Museum on the corner of Blount and Jones Streets. Overflow bus parking area is located next to the North Carolina Museum of Art on Blue Ridge Road.
Directions to overflow bus parking
Public Transportation
---
PRAIRIE RIDGE ECOSTATION
1671 Gold Star Drive
Raleigh, NC 27607
Phone: 919.707.8888
Get Directions
Car Parking
A gravel parking lot is located adjacent to the entrance of Prairie Ridge Ecostation. You will see a fence, kiosk and gate marking the Prairie Ridge entrance just before the drive curves around to the right.
Bus Parking
Limited bus parking is available in the public parking lot.
---
WHITEVILLE
415 South Madison Street
Whiteville, NC 28472
Phone: 910.914.4185
Get Directions