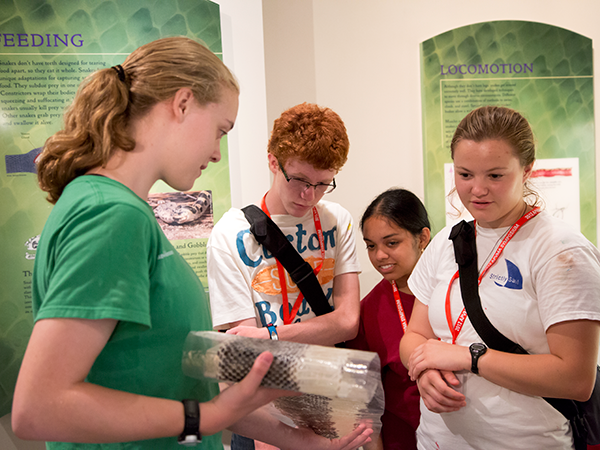 Vital to Our Mission
Volunteers provide vital support to the North Carolina Museum of Natural Sciences and its mission. Volunteers add diversity and depth to the Museum's staff, allowing the Museum to better connect with the community. In return, Museum volunteers are given the opportunity to expand their knowledge and learn new skills, while gaining valuable experiences in a unique environment. Join us and start sharing your talents and enthusiasm today!
SPECIAL EVENTS
Museum Events
Volunteers help ensure the success of the Museum's large-scale educational events like BugFest, Reptile & Amphibian Day, Astronomy Days and many more!
---
NATURE EXPLORATION CENTER (NEC)
Curiosity Class Programs
Volunteers present hands-on programs to visiting school groups (Kindergarten-Grade 5) using live animals and objects to teach the classes.
Discovery Room
Volunteers assist and present programs to groups of Preschool-Grade 1 students using live animals and objects to teach the classes.
Windows on the World
Volunteers assist Museum staff during programming offered seven days/week.
Exploration Stations/Carts
Volunteers interact with visitors and provide information on natural history topics by providing cart programs throughout the Museum.
Special Exhibits
Volunteers provide Museum guests a deeper, more meaningful experience during their visit of the Museum's Special Exhibits.
---
NATURE RESEARCH CENTER (NRC)
The Naturalist Center
Volunteers greet and assist visitors as they interact with specimens and resources available.
Investigation Laboratories (iLabs)
Volunteers greet and assist visitors in these hands-on education labs.
Citizen Science
Volunteers make Citizen Science opportunities available to the public through the development & presentation of interactive cart programs, assist visitors in the use of the Citizen Science Center Exhibits, and/or assist in public programs focusing on citizen science activities.
Research Laboratories
Volunteers assist laboratory staff in a variety of research projects.
---
BEHIND-THE-SCENES OPPORTUNITIES
Brimley Library
Volunteers shelve and file library materials, process new materials, enter data into online applications, transcribe typed and written historical documents, scan images (chiefly 35mm slides), and help with special projects such as conducting inventories and writing short historical accounts.
Teaching Collections
Volunteers help to organize and maintain the Education Department's collection of specimens, which includes mounted animals, skeletons, skins, rocks, fossils and more.
Living Collections
Volunteers work with Living Collections staff in the care and husbandry of the Museum's animals for programs and exhibits, including a variety of invertebrates, reptiles, amphibians, birds, and mammals.
Research & Collections
---
PRAIRIE RIDGE ECOSTATION
Prairie Ridge Educators
Volunteers assist Museum staff in the development and presentation of outdoor educational programs.
Nature Stories
Volunteers assist or lead these outdoor story time programs and activities, and help with set-up, clean-up, and may assist with program development.
Citizen Science
Volunteers provide assistance in support of the Museum's Citizen Science Program in a variety of ways.
Garden and Resource Management
Volunteers assist in the planting and maintenance of cultivated areas, including weeding, mulching, pruning, watering, and much more.
Nature Play Space
Volunteers introduce children to the wonders of the natural world and engage families in nature play and study.
---
Staff