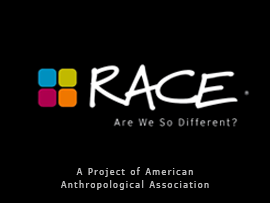 A Cultural Conversation is an enlightening exchange of thoughts, opinions and ideas about race in a safe space. For 90 minutes, friends, families and strangers can participate in a dialogue facilitated by local experts in the field of race relations and social justice. This exercise allows for people in small groups (5 to 25 people) to have a meaningful and transformative experience as they reflect on their everyday life experiences with race.
Cultural Conversations will occur during the run of the RACE: Are We So Different? featured exhibition every Saturday and Sunday afternoon from April 22 to September 3. These conversations are free and open to the public, ages six and up. Children ages 15 and under must be accompanied by an adult. Participants must be available for the entire 90-minute session. All participants are encouraged to spend a minimum of one hour in the exhibition prior to their Conversation, as some conversational prompts are tied to exhibition content. Space is limited. Registration is required. If you must cancel your reservation, please notify the Museum Box Office at 919.707.9950 at least 24 hours in advance.
Walk-ins will be accommodated on a first come, first served basis. Check in at the Museum Box Office to see if there are any openings on the day of your visit.
To register a group, please contact the Museum Box Office at 919.707.9950. To request an accommodation, such as a Spanish-speaking facilitator, or for more information, please contact Emelia Cowans-Taylor at emelia.cowans@naturalsciences.org.
Day or evening fee-based Cultural Conversations may be scheduled for corporate or non-profit organizations Monday thru Friday. Contact Sydney Bannerman, Rental Coordinator, at sydney.bannerman@naturalsciences.org or 919.707.9845 for pricing and availability.
Duke GRID is a generous sponsor of the RACE Exhibition Cultural Conversations. Duke University's Center on Genomics, Race, Identity, Difference (GRID) is a global initiative with a vision to inform and transform the concepts, uses, and impacts of race in science, medicine, and society. The mission of GRID is to develop and apply practical tools and dynamic strategies to understand and address social, biological, and ethical dimensions of race in humans.
Las Conversaciones Culturales
Una Conversación Cultural es un intercambio enriquecedor de información, ideas, pensamientos y opiniones acerca de la Raza en un entorno seguro. Durante 90 minutos, amigos, familiares, y desconocidos pueden ser partícipes del diálogo facilitado por expertos locales en los campos de las relaciones raciales y la justicia social. Este ejercicio permite a pequeños grupos, no superiores a 25 personas (mínimo 5), tener una experiencia significativa y transformadora que refleje su experiencia diaria con la Raza.
Las Conversaciones Culturales tendrán lugar durante el periodo de exhibición de RACE: Are We So Different? cada sábado y domingo por la tarde desde el 22 de Abril al 3 de Septiembre. Estas conversaciones son gratuitas y abiertas al público con edades superiores a 6 años. Los niños menores de 15 años deberán asistir acompañados por un adulto. Los asistentes estarán presentes durante los 90 minutos que dura la sesión. Se recomienda a todos los participantes pasar un mínimo de una hora en la exposición antes de que tenga lugar la Conversación, ya que algunos temas que se tratan están basados en el contenido de la misma. El espacio es limitado, por lo que se requiere inscripción previa. Si debe cancelar su reserva, por favor, póngase en contacto con la taquilla del Museo en el 919.707.9950 con, al menos, 24 horas de antelación.
Cualquier asiento disponible será ocupado el mismo día en orden de llegada. Para más información, consultas o reservas póngase en contacto con la taquilla del Museo.
Para inscribir a un grupo, por favor contacte con la taquilla del Museo en el 919.707.9950. Para solicitar ayuda adicional, como pudiera ser un traductor en español, o más información, por favor, contacte con Emelia Cowans-Taylor en emelia.cowans@naturalsciences.org.
Se pueden programar Conversaciones Culturales, bajo previo pago, durante el día o la noche y de lunes a viernes para corporaciones u organizaciones sin ánimo de lucro. Para más información sobre fechas disponibles y precios, contactar con Sydney Bannerman, Rental Coordinator, en sydney.bannerman@naturalsciences.org o en el 919.707.9845.