Sidebar
Wizarding School for Muggles :: Schedule of Activities :: Food and Beverage :: Join Family+1 Membership
All activities are from 6 to 9pm unless otherwise noted.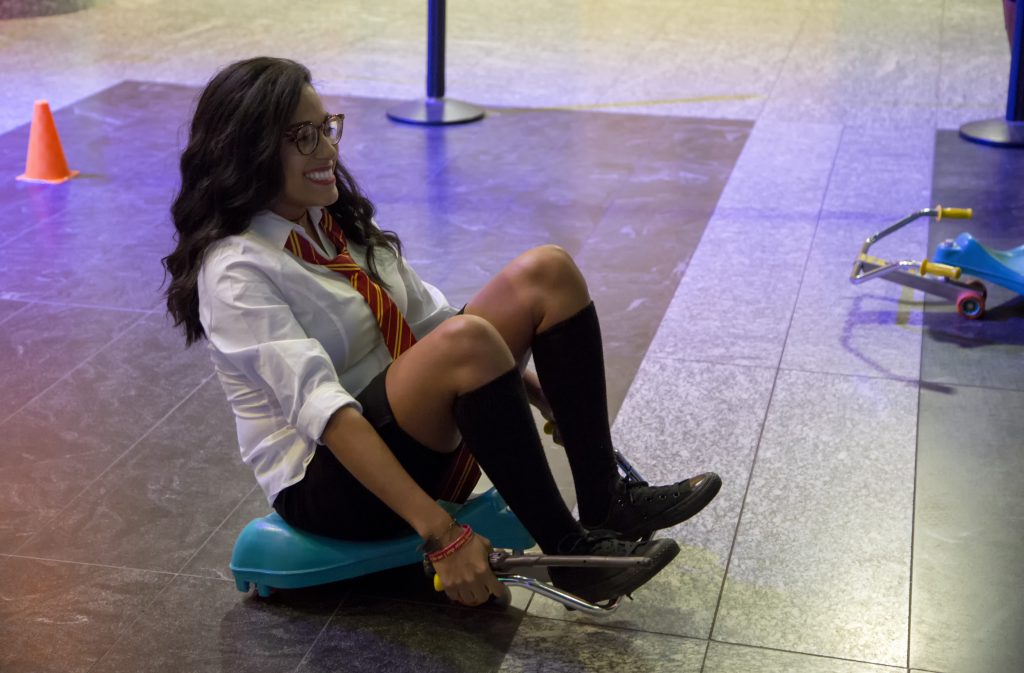 NATURE EXPLORATION CENTER, 1ST FLOOR
5:30–7:30pm: Meet the Owls of Hogwarts
Front Entrance
Piedmont Wildlife Center
Sorting Hat
Don't know your house? Come get sorted!
Meet Your House Mascot
Gryffindor has the lion; Slytherin love the serpent. Hufflepuff has a badger, and the eagle reps Ravenclaw. Find your House Table and get to know your house mascot.
Professor Sprout's Wildflower Seed Wristbands
Pomona Sprout grows magical plants, now you can too! The first 350 guests will receive a free seed wristband. Plant it at home and watch wildflowers grow.
Wandcraft 2.0: Printing Wands and Other Things
Visual World iLab
Watch 3D printers whir to life to create the perfect wand.
Owl Post
Visit the Owlery and see what the barn owls have brought! Sort through bones found in owl pellets to identify what the owls had for dinner.
Photo Booth
Snap some family memories at the photo booth, featuring a fun Harry Potter-themed backdrop.
Costume Contest
Natural Treasures Gallery
Come dressed as your favorite character from the Harry Potter universe and win cool prizes. First place will get a light-up replica of Harry Potter's wand that you can use to write or draw in augmented reality and then share with your friends! Second place gets a snitch replica with fluttering wings that appears to evade capture in your hands. The third place winner will become a magical baker with their new set of four Hogwarts house crest cookie cutters. All costumes are welcome. Prizes awarded to best-dressed Harry Potter universe-themed characters. Must register and be present to win. Winners will be announced at 8:30pm. Costume and mask policy.
Battle of Hogwarts
It's time to choose your side. Are you a Death Eater or do you fight with the Order of the Phoenix? Get your temporary tattoo and display your allegiance.
NATURE EXPLORATION CENTER, 2nd FLOOR
Messages to Tom Riddle
Leave a message to Tom Riddle that only you can see!
Gryffindor Common Room
Featured Exhibition Gallery
Gryffindor just won the Quidditch Cup, and there's a party in the Common Room! Speak the password to the Fat Lady to challenge your friends to a wizard duel or game of Quidditch, join a Hippogriff race, see how fast you can collect the sword of Gryffindor from the icy pool or take aim to free Dobby the House Elf.
Invisibility Cloak: Movie Magic
Try on our Invisibility Cloak and watch yourself disappear using the magic of green-screen technology.
Transfiguration: Dragon's Breath
Is this real magic, or are we just blowing smoke? Practice your transfiguration skills and get a taste of what it's like to be a dragon!
Herbology and the Magic of Plants
Piedmont Picnic Project
Taste, touch, and smell edible wild plants with Piedmont Picnic Project. Learn about how you can use and enjoy them today in "potions" and on the dinner table as well as about the history of their use in charms and spells!
At the Edge of the Forbidden Forest: Bowtruckles
Discovery Room
Discover the world of Bowtruckles. Try spotting this shy and peaceable creature hiding at the edge of the Forbidden Forest or create your own. All regular Discovery Room activities for families will be available as well.
NATURE EXPLORATION CENTER, 3rd FLOOR
Wizards' Duel: Mindflex
Challenge your fellow wizards in a magic duel of concentration. Use your powers to levitate a ball into the opposing wizard's zone to win.
Fantastic Beasts: Here You Find Them
The Naturalist Center
Meet some of the animals, living and dead, that inspired the creatures from the Harry Potter series.
Wingardium Leviosa for Muggles
Learn how things float, explode, fly and move with unseen forces! Is it magic? Is it science? You be the judge.
EnLIGHTening Potions!
Micro World iLab
Step up to the Potions cart for an "enLIGHTening" time with liquid light and phoenix-feather flashes!
Magical Pets
Windows on the World
If you were a witch or wizard, which magical companion would you choose? Meet the furry, feathered, or slimy animals that inspired pets like Trevor the toad and Scabbers the (infamous) rat.

Defense Against the Dark Arts: Imperius Curse
NC State University Search & Rescue Insect BioBots
Science or magic? This lab uses the Imperius Curse to turn ordinary cockroaches into heroic "BioBots".
NATURE EXPLORATION CENTER, 4th FLOOR
6:00–7:30pm: Slow-motion Magic with the Sloth
Living Conservatory
Professor Dumbledore cast the Aresto Momentum spell to save Harry from a perilous fall during a Quidditch match. Learn about slow motion from the expert, our resident sloth, and why being a slowpoke can be important for survival.
Quiet Room of Requirement
Explore on 4
The Room of Requirement reveals itself for those in need and is equipped with everything the seeker requires! Our Quiet Room of Requirement has comfy seating, noise-canceling headphones, calming sensory toys and coloring sheets for anyone who needs to get away from the crowds.