At the STEM Career Showcase for Students With Disabilities
Ablr | Arts Access | Catalyst | NC ABLE | NC DSDHH | NC DVRS | NCMNS Teen Programs | NCSU BIT | SAS CodeSnaps | State of North Carolina
---
Ablr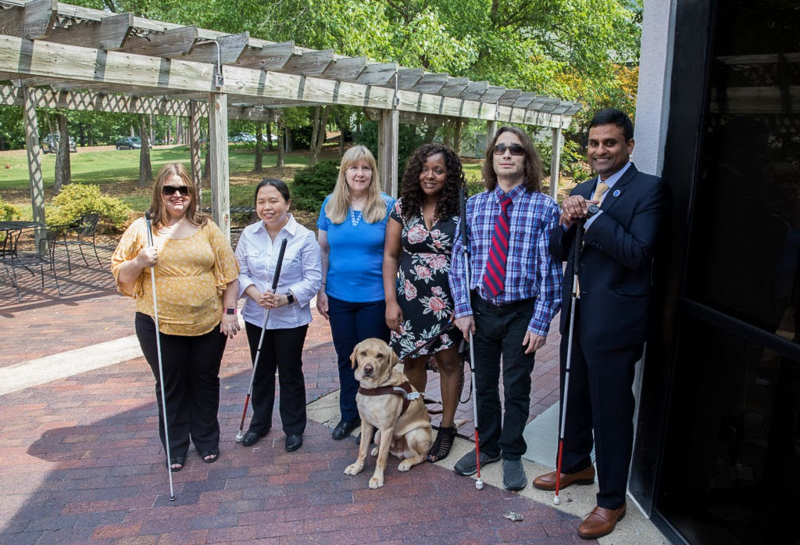 Ablr is a Digital Accessibility and Inclusion company that was founded on the key principle that all digital content, including websites, videos, applications, are accessible for everyone, no exception. Ablr offers the optimal blend of technology + humanity. And it truly requires this combination in order to meet 100% compliance. Our team of analysts ensure content and digital assets adhere to the federal requirements of ADA, Section 508 and WCAG. In addition to confirming compliance, our testers who have disabilities can ensure digital content is actually usable for people with disabilities. Learn more about us at www.Ablr360.com.
---
Arts Access

Arts Access works to make the arts accessible to people with disabilities. They share information about accessible events such as sensory friendly programs, ASL tours, audio described or tactile touch tours, events related to arts education and advocacy, calls for art and performance opportunities and finding and accessing inclusive programs. Sign up for the Arts Access newsletter here  or visit the Arts Access website.
---
Catalyst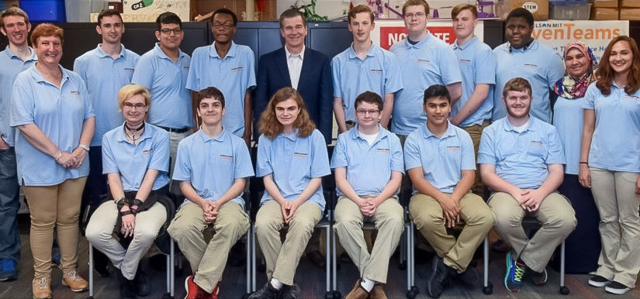 Catalyst is a high school program designed to create STEM opportunities for students with disabilities. Students learn STEM content and skills through hands-on labs and research, participate in STEM field trips, mentoring opportunities, and paid internships, improve workforce readiness and soft skills, and explore STEM educational pathways and careers. Catalyst also provides students job exploration counseling, workplace readiness training, work-based learning experiences, counseling on postsecondary options, and development in self-advocacy.
---
NC ABLE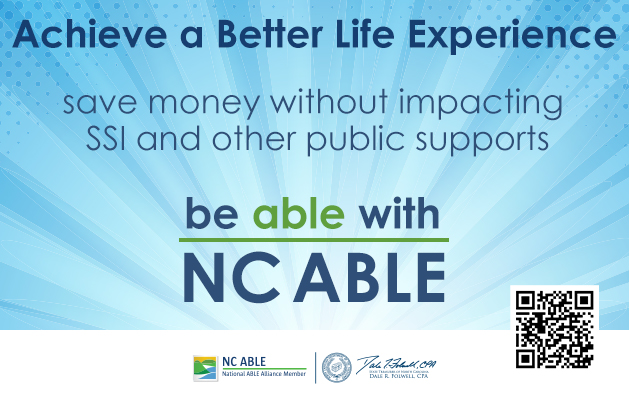 NC Achieving a Better Life Experience (NC ABLE) is a savings tool designed to help people of all ages who had a disability occur prior to the age of 26. Launched in 2017, eligible individuals can save money without impacting SSI, Medicaid or other public supports. Funds can be used for a variety of qualified disability expenses now or in the future, such as:
Education
Transportation
Housing
Health and Wellness
Financial Management
Legal Fees
Assistive Technology
and more
NC ABLE accounts can be opened by an eligible individual, who is the account owner, or by a parent, guardian or person acting under a power of attorney. Accounts can be funded through a variety of sources, including gifts, transfers from a 529 college savings account or from a paycheck.
Overseen by the Department of State Treasurer, 97% of respondents to a recent survey would recommend the NC ABLE Program to others. It's an opportunity to save for the future and spend for today's qualified expenses.
Visit https://www.nctreasurer.com/divisions/nc-able to open an account and discover more about NC ABLE.
---
NC Division of Services for the Deaf and Hard of Hearing (DSDHH)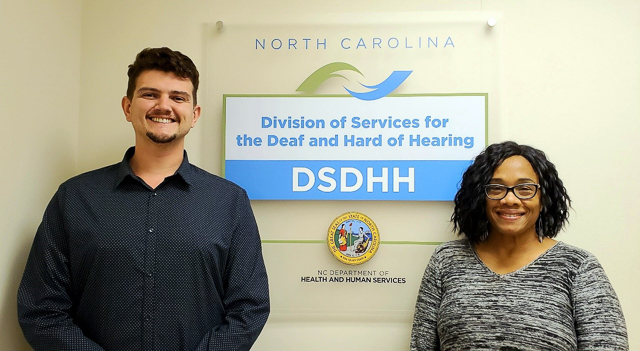 The Division of Services for the Deaf and Hard of Hearing works to ensure that all Deaf, Hard of Hearing, or Deaf-Blind North Carolinians have the ability to communicate their needs and to receive information easily and effectively in all aspects of their lives, especially their health and well-being.
Phone: 919.527.9630
Fax: 919.715.0962
Raleigh Regional Center
4900 Waters Edge Drive
Raleigh, NC 27606
DSDHH provides the services:
Helping you communicate
Hearing Aid Resources
American Sign Language (ASL) Interpreting Resources
Assistive Technology Demos and Assistive Listening Device Access
Hearing Screening
ASL Assessment and Support
Helping you collaborate
Advocacy
Education and Awareness
Emergency Preparedness
ASL Interpreter Learning Opportunities
Community Resource Referrals
Helping you connect
Equipment Distribution Services (EDS) – Hearing Aid, Amplified Phones, Alerting Devices, Mobile Bluetooth/Amplified
National DeafBlind Equipment Distribution Program (NDBEDP) – CTV, ZoomText, Large Virtual Screen for desktop, etc.
Community Events
Video Relay Resources
---
NC Division of Vocational Rehabilitation Services (DVRS)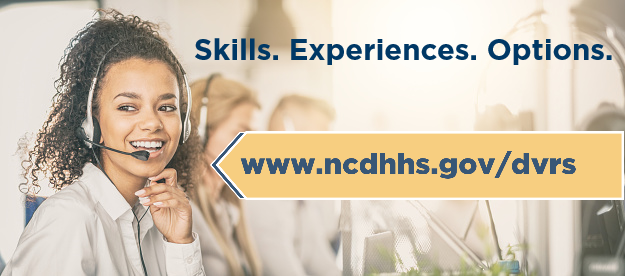 The Division of Vocational Rehabilitation Services (DVRS or VR) partners with students, youth, families, schools and community organizations to provide services that promote successful transitions from school to work and adult life. For more information, find an office near you: VR Local Office Listing
Pre-Employment Transition Services (Pre-ETS)
Students with documented disabilities can begin receiving Pre-ETS at age 14 based on a request from the student, school, parent, guardian or another service provider. DVRS partners with students with disabilities to give them early start at career exploration and preparation for adult life.
Pre-ETS activities allow students to explore career interests, use the workplace to gain knowledge and skills, develop social and independent living skills, learn about education and training options for after high school and learn how to effectively communicate their needs and interests.
VR Transition Services
DVRS collaborates with the public and private sectors to provide and advocate for the highest quality services that empower youth with disabilities to maximize their employment, independence and full inclusion into society.
If eligible for VR transition services, a DVRS counselor will work with you, your family and your school to develop an employment plan. This plan will include steps to help you achieve employment that is meaningful to you and that leads to a successful career.
To learn more, check out this flyer on our website: Skills. Experiences. Options.
Para información y referido a una oficina VR cerca de tí, llama al 1.800.215.7227 or ve a la página web: Destrezas. Experiencias. Opciones.
---
NC Museum of Natural Sciences' Teen Programs

Check out the Museum's programs and presentations that connect middle and high school students with professionals in a variety of science fields. Explore the full list of programs and presentations at https://naturalsciences.org/learn/teens.
---
NC State Biotechnology Program (BIT)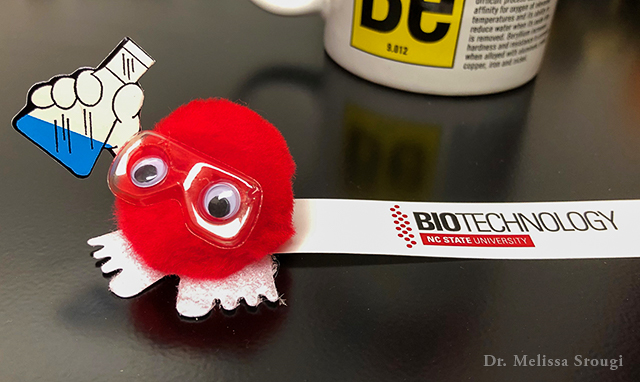 The NC State Biotechnology Program (BIT) offers undergraduate and graduate student training in molecular biology and biotechnology. Check out the Program's courses (biotech.ncsu.edu) and connect with their instructors to learn about the variety of applications of biotechnology!
Explore the NCSU BIT YouTube Channel
Learn about their program and instructors
Discover some of the applications of biotechnology
---
SAS/CodeSnaps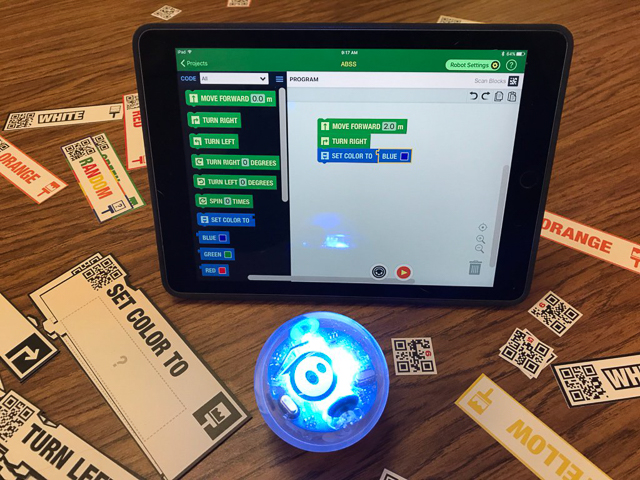 Come learn about their free coding app that works with a Sphero robot and an iPad!
If you're interested in finding out how CodeSnaps can be used with students with visual impairments, these blog posts will serve as great resources:
https://www.perkinselearning.org/technology/blog/codesnaps-sas-coding-app
https://www.perkinselearning.org/technology/blog/codesnaps-activity-part-2
---

The State of North Carolina
The State of North Carolina is the state's largest employer with approximately 130,000 state government employees in over 100 different counties. We are a large organization comprised of various state agencies, branches, and universities, each providing an important public service. Career opportunities are available from the mountains to the coast and all points in between.
Our metropolitan areas are consistently ranked as thriving centers for businesses, career seekers, education, and social life. The University of North Carolina system consists of colleges and universities that consistently receive top honors in various categories.
Start your career with us at the State of North Carolina today!
Learn more at: http://www.nc.gov/jobs
PROGRAMS FOR STUDENTS:
State of North Carolina Internship Program
The North Carolina Internship Program provides students with professional work experience that connects their classroom experiences and potential career choices.
Interns work 40 hours a week for a 10-week period. They participate in meetings, educational tours and other activities designed to broaden their perspective of public service and state government. These students are typically College Students who have completed the their freshman year by the time they start in May.
The application period runs November 1, 2020 – January 4, 2021.
Learn more at: https://ncadmin.nc.gov/advocacy/youth-involvement/internship-program
Lady Cardinal STEM Program
The Lady Cardinal Mentorship Program is a 5-week summer enrichment opportunity for high school girls in North Carolina who are interested in exploring careers in science, technology, engineering, and/ or mathematics within state government. The 2020 Lady Cardinal Mentorship Program lasts from middle June – middle July. Females who have completed 9th grade are eligible to apply. Students must complete and application for consideration to the program.
Learn more at: https://ncadmin.nc.gov/advocacy/youth-involvement/lady-cardinal-mentorship-program
Governor's Page Program
Established in 1973, the Governor's Page Program gives high school students from all over North Carolina the opportunity to come to Raleigh for a week of hands-on participation in their state government. Pages will tour multiple government buildings and historic sites, including the Legislative Building, the State Capitol, the Executive Mansion, and the North Carolina Museum of History. Finally, Pages will have the opportunity to meet with government officials and discuss how state government works and how it impacts the lives of North Carolinians.
Each applicant must be a North Carolina high school student in good academic standing between the ages of sixteen and eighteen years old. Pages are selected to serve for a term of four days.
Learn more at: https://governor.nc.gov/governors-page-program
Back to the STEM Career Showcase for Students With Disabilities