Triangle SciTech Expo
Saturday, April 28, 2018
9:00am–4:00pm
The Triangle SciTech Expo has many wonderful exhibits and activities. Exhibits will be updated frequently, so check back often!
---
3D Printing and Bioprinting
UNC/NCSU Joint Department of Biomedical Engineering
3D printing and bioprinting techniques will be exhibited.
4-H STEM
Wake County 4-H Youth Development
Young visitors will use their engineering skills to test and improve their own glider. Beginning with a basic template and necessary materials, they will create a glider. Once created, the youth will fly their glider making note of its path and distance. Adjustments can be made to improve the path and distance prior to subsequent test flights. Visitors will  continue this process for optimizing their glider performance at home.
Animal Architects
NC Museum of Natural Sciences
Did you know animals are also engineers and architects? Learn about some cool structures animals create and meet some of these "animal architects"!
Animal of Biotechnology
NC Museum of Natural Sciences
Animals are used in many ways in the field of biotechnology. Come meet a few animals and learn how they are helping us to understand our world and help us solve problems!
Applications of Biotechnology
Biogen
Get excited about science through hands-on experiments and demonstrations that will bring North Carolina's largest independent biotechnology company to life. Visitors will get a chance to experience the same tools and techniques that Biogen scientists use.
At Biogen, our mission is clear: we are pioneers in neuroscience. Biogen discovers, develops, and delivers worldwide innovative therapies for people living with serious neurological and neurodegenerative diseases.
Bayer: Science for a Better Life
Bayer CropScience
Bayer is driven to find solutions that will help overcome some of the most urgent challenges facing agriculture today. Stop by to learn more and to see up close some insects that affect agriculture.
Brain VR (Virtual Reality)
University of North Carolina at Chapel Hill
Brain VR combines electroencephalogram (EEG) data with virtual reality, allowing users to use their mind to control a video game in virtual reality. Users train the system by thinking "up" or "down" and then fly across a virtual landscape using only their thoughts. Other demos include a visualization of a user's brainwaves emanating from a virtual brain and the ability of a user to control a campfire with their brain activity.
Build North Carolina out of LEGO® Bricks!
Play-Well TEKnologies
Help create North Carolina out of LEGO® bricks! Play-Well TEKnologies instructors will help you design your very own addition for a giant map of our state made entirely of LEGO® pieces. Build anything you want — the only limit is your imagination!
DNA is Our Strawberry JAM!
NCSU PPGSA
Join the NCSU Plant Pathology graduate students for some educational strawberry DNA extraction. They'll also have watercoloring and plant pathology-related demonstrations. All ages are welcome.
Duct Tape Challenge
NC Museum of Natural Sciences
Can you build a boat out of duct tape that floats in the water … AND can withstand being blasted by a missile?! Come try your hand at the "Duct Tape Challenge." Prizes awarded to the competitors whose boats are still floating!
ElectroExtravaganza!
The Science Wizard
This station features static electricity demonstrations, a Van de Graaff generator and fun fly sticks.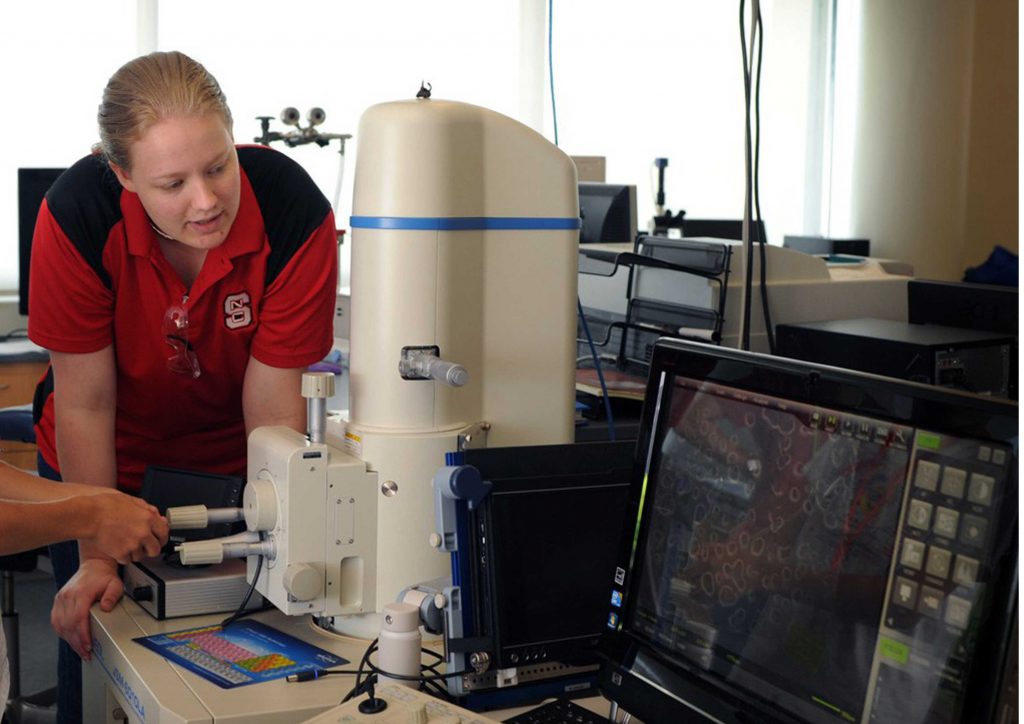 Electron Microscopes
NCSU Material Science and Engineering
Use an electron microscope to see beyond what our eyes can see!
Exoplanet Transits
NC Museum of Natural Sciences
In "Exploring the Universe: Exoplanet Transits," participants simulate one of the methods scientists use to discover planets orbiting distant stars. Even when a planet is too far away to observe directly, scientists can infer its presence by watching for slight, regular dips in a star's brightness — when the planet orbits between its star and Earth, some of the star's light gets blocked from view. In this activity, participants perform a similar experiment, seeing what they can learn about a hidden object by studying its shadow.
Exploring the World of Medicines Through Hands-on Activities
GSK
Activities include "Paper Chromatography," "How Do You Make a Molecule Model," and "What Happens to the Water?" In "Paper Chromatography," young visitors will learn the characteristics of water, its capillary action, and how solubility and the molecule size of different dyes help develop different patterns on paper. In "How Do You Make a Molecule Model," kids will make their own models of different molecules and compare their complexity. In "What happens to the Water?," young visitors can learn about the scientific method through a series of experiments.
Fermented Food Microbes
Genomics & Microbiology Research Lab
Learn about microbes and how they are involved in the processes that create the varied flavors and textures of cheeses and other fermented foods. See how scientists use DNA fingerprinting to identify these microscopic creatures.
Fermented Food Workshop: Harnessing The Power of Microorganisms
NC Museum of Natural Sciences
Have you ever wondered what is really going on inside that jar of bubbling sauerkraut? Part cooking class and part science class, this workshop will give you the practice of making fermented vegetables (kimchi) while learning about the science behind the process.  Explore microbes and plant evolution, both of which have been utilized in the fermentation process for centuries. You can contribute as a Citizen Scientist by helping the class create fermented vegetable jars to showcase in the Museum's Genomics & Microbiology Research Lab window as part of our Fermented Foods research project!
More information and Registration for this workshop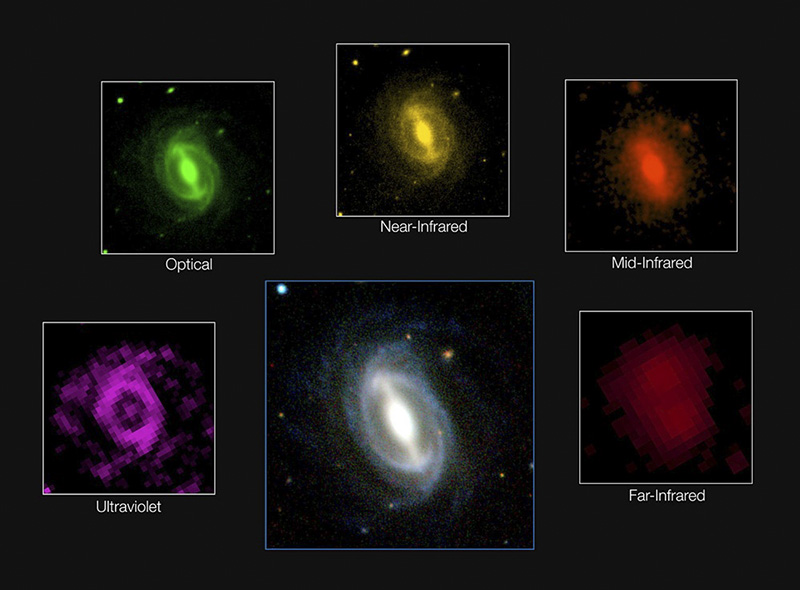 This composite picture shows how a typical galaxy appears at different wavelengths in the GAMA survey. Photo credit: ICRAR/GAMA and ESO.
Filtered Light
NC Museum of Natural Sciences
"Exploring the Universe: Filtered Light" demonstrates how scientists can use telescopes and other tools to capture and filter different energies of light to study the universe. Most objects in the universe are so distant from us that we can only study them through light. Filters allow us to block some energy levels of light and isolate others; each energy of light can offer new information about the object of study. In "Filtered Light," participants discover how colored filters can help reveal more about an image. They can also make and study colorful images of their own.
Genetic and Electric Circuits
Sozzani Lab at NCSU
Using examples from biology and engineering, you'll learn how genetic networks in your body act like electric circuits we use every day. Learn to extract DNA from different types of fruit (not just strawberries!) and make electric circuits using fruits you eat every day!
Girl Scouts and STEM
Girl Scouts – North Carolina Coastal Pines
Explore the new STEM journey — "Think Like an Engineer"! This exhibit will demonstrate the activities that girls will do to earn their "Think Like an Engineer" Badge.
Healthy Lungs, Happy Living
National Institute of Environmental Health Sciences
Visitors will measure their lung capacities.  A presenter will plot each visitor's lung capacity against their height and discuss the environmental factors that could affect people's lung capacity.
Hide and Seek Moon
NC Museum of Natural Sciences
"Exploring the Solar System: Hide and Seek Moon" is an engaging way for early childhood learners to experiment with some of the tools scientists use to study objects that are very, very far away, and to learn about how cultures around the world have viewed the Moon. Easy-to-use binoculars and a hidden object Moon poster let young participants discover how some tools can make distant objects appear closer and brighter, and the "Moon Rope" storybook shares a story of one of the ways people have made meaning out of the shapes they see on the Moon.
How Animals Eat
Science Communication Graduate Student Organization at NCSU
Ever wonder how a deer can eat grass all day long, but a mountain lion can't survive on grass alone? Have you ever wondered how wild turkeys eat without having any teeth at all? Visit them to learn how three animals of North Carolina, white-tailed deer, mountain lions, and wild turkeys, eat their food! Through hands-on games, find out how these three animals get their food, the differences between their digestive tracts, and how digestion works.
Inflatable Slide
NC Museum of Natural Sciences
Gravity in action! Climb up and zoom down this 21-foot-long inflatable slide!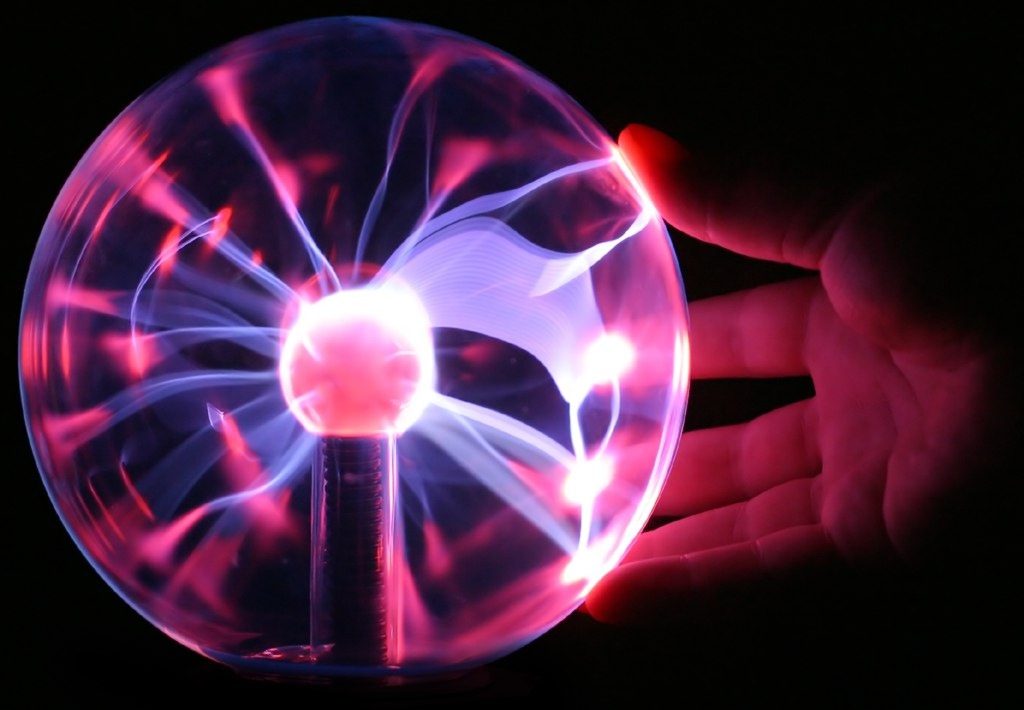 Invisible Forces
Hightouch Hightech Science Made Fun
Manipulate things around you with forces invisible to your eyes. Magnetic forces, air pressure, gravity, electricity and sound vibrations are all forces around us that we cannot see directly, but scientists have found many tools that help us detect and understand them. Come explore!
Kids Lab
BASF — The Chemical Company
BASF will bring some live plants like maize and soy to show kids where food comes from. They will talk about pollinators, and kids can do a hands-on activity and game.
Magnetic Fields
NC Museum of Natural Sciences
The "Exploring the Solar System: Magnetic Fields" activity shows participants how scientists can use tools to study the invisible magnetic fields of Earth, the Sun, and other objects in the universe. Participants can see how the Sun's magnetic field extends far out into space and sends bursts of magnetic energy across the solar system, while Earth's strong magnetic field helps protect life on our planet from dangerous solar and cosmic radiation.
Marker Chromatography
NC Museum of Natural Sciences
Are black markers really black? How do trees fight gravity to pull water up into their roots? What's the fastest color in the world?Explore the answers to these questions and more at "Marker Chromatography"!
Mars Rovers
NC Museum of Natural Sciences
In "Exploring the Solar System: Mars Rovers," participants learn about how scientists and engineers use robotic rovers and other vehicles to explore distant worlds, and experience some of the challenges and teamwork required to navigate a rover across the surface of a planet millions of miles away. Players acting as "Mission Control" and a "Rover" must work together to navigate a large obstacle course. Participants can also design their own rover to fit the particular challenges of exploring a distant planet.
Meet an Impactor!
Morehead Planetarium and Science Center's IMPACTS Program
Impactors are awesome scientists that will have fun and engaging activities for kids of all ages! Visit their booth to learn about their cool research that is taking place in North Carolina and how it impacts your everyday life. Discover their booths: "DNA," "Become a Color Detective," "Sharks," "Electric Heart," "Teamwork in Nature," "Invaders: The War Between Germs and the Body," "Microbiome Minions," "Fun with Sensors and Motors" and "Hot to Rot: Hungry Compost Critters Eat Our Waste."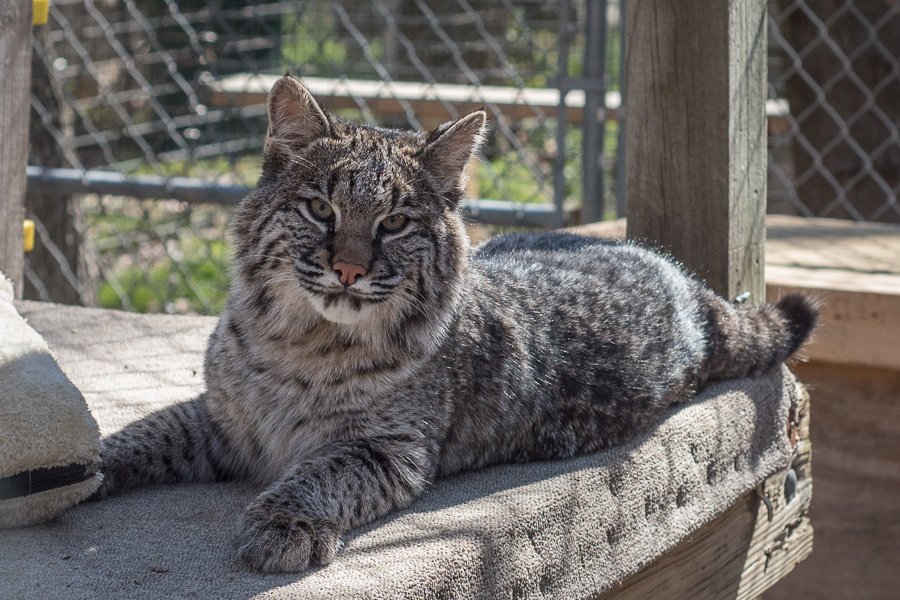 Meet Muraco the Bobcat!
Conservators Center
Come meet Muraco the Bobcat and learn about bobcats and the 20 other species that live at the Conservators Center.
Meteorology at NC State
Wolfpack Meteorology
Wolfpack Meteorology is a student-run outreach team promoting the meteorology program at NC State. Be sure to stop by if you love talking about the weather!
M&M Club: Makers and Museum
Broughton High School, M&M Club: Makers and Museum Club
This exhibit will have hands–on maker activities so participants can learn about a variety of STEM topics.
Objects in Motion
NC Museum of Natural Sciences
"Exploring the Universe: Objects in Motion" encourages participants to explore the complex but predictable ways objects in the universe interact with each other. Stars, planets, moons, and other objects in space orbit around each other because of gravity, and NASA scientists can use what we already know about the laws of physics to make new discoveries and predictions. Participants in this activity use "orbiting" clay balls to make simple, functioning models of interacting objects in space.
Pack a Space Telescope
NC Museum of Natural Sciences
Space telescopes can offer us better, clearer views of the universe (and of our own planet) than Earth-based telescopes can, but getting these large, delicate pieces of equipment into orbit is tricky. In "Exploring the Universe: Pack a Space Telescope," participants get a taste of the challenges faced by engineers in designing and building complicated tools that can fold up to fit inside a spacecraft, and then unfold again when they deploy in orbit. Participants will design, build, pack, and deploy their own model space telescopes in this activity.
Paper Mountains
NC Museum of Natural Sciences
"Exploring Earth: Paper Mountains" lets participants explore the way the shape of the land and the pull of gravity influence how water moves over Earth. By making unique mountain models from crumpled paper and watching how water moves across them, participants can act as Earth scientists, using their observations to make predictions about the future of our planet.
Paper Circuits
NC Museum of Natural Sciences
How many times have you used electricity today? Probably too many times to count, but most of the time, we don't even think about it. Explore the invisible science of electricity and circuits to create your own light-up paper circuit art to take home!
Plants for Kids
Alonso-Stepanova Lab at NCSU
This is a hands-on demo for all ages that teaches about plants. Learn how scientists study plants in a laboratory and set up a simple experiment yourself to take home with you!
Robots in Action!
FIRST North Carolina
Come see robots built by high school students as they move around and manipulate objects.  Take a turn driving and test your skills.
Slippery Slime by Mad Science
Mad Science
It's ooey. It's gooey. Learn about polymers and more when you create your own slippery slime. Make it gross, make it fancy — slime bling lets you create YOUR perfect polymer!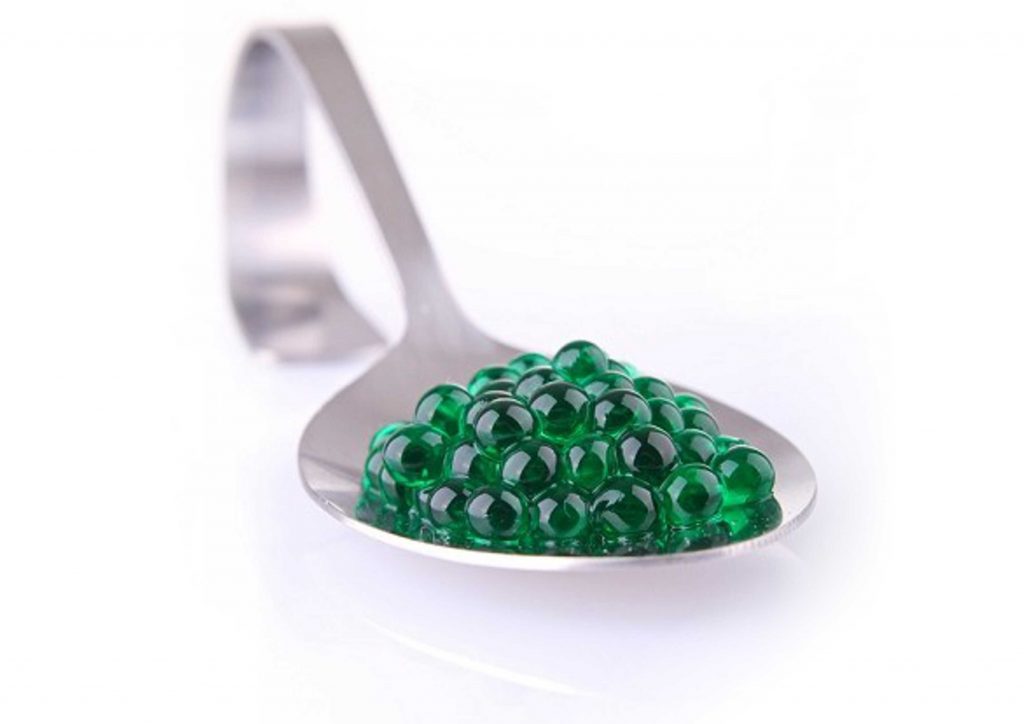 Spherification and Molecular Gastronomy
The Engineering Place at NC State University, College of Engineering
Participants will use common household items to create edible liquid spheres used to augment food presentation at high-end eateries.
Starve Landfills & Build Healthy Soil with CompostNow!
CompostNow
"CompostNow," a doorstep collection service that helps households and businesses compost, will be at SciTech Expo to talk about the importance of composting and give away free samples of their locally produced compost.
STEM Children's Books
Usborne Books and More
Brilliantly designed paper planes to make and fly, ranging from fighter planes to space rockets and creepy flying bugs.
Techno Wolves Robotics Team
Techno Wolves Robotics Team
Techno Wolves is a local high school student-led robotics team based in Apex, NC. Every year, students must construct a high-performance robot within a six week time span. Students use their skills in computer-aided design (CAD), fabrication, electrical, and programming to complete a final product to be sent to competition. Additionally, their robotics program encourages students to actively promote the team by attending outreach events and participating in community service.
The World's Safest Trampoline!
Springfree Trampoline
Springfree would like families to come and jump on the world's safest trampoline!
Triangle DIY Biology
Triangle DIY Biology
Triangle DIY Biology is driving the effort to create a Community Lab Space in Durham. The Lab Space is open to all, focusing on the interests of its members. Their core group of active members has expertise in microbiology, bioinformatics, AgBio/AgTech, bio-composites, entomology, computer science, electronics, embedded systems, engineering, community engagement, K-12 education, and tech-based economic development.
We All use Math
Poblocki Sign Company
Poblocki Sign Company careers all involve the use of math and employees would like to show children how creative and productive they can be with numbers.
Wetlands: Mother Nature's Sponges
US Army Corps of Engineers
This exhibit informs the public about the federal program that regulates development in the state's wetlands and streams. They have two interactive stations: one involving the identification of aquatic life (bugs) that symbolizes good stream quality and another that demonstrates the benefits to water quality that wetlands serve. There will be some wetland plants and soils that are indicative of wetlands.
Zebrafish, Worms, and Flies — Oh My!
Duke Outreach in Genetics and Genomics
Look at zebrafish larvae, C. elegans worms, yeast, and drosophila flies  under microscopes. These are all common genetic model systems used to understand human development and disease. We will also have DNA bracelets for you to make a sequence of DNA from your favorite organism. You'll be surprised how similar the DNA sequences are!