What is Biotech?

At its simplest, biotechnology is technology based on biology…to develop…products that help improve our lives and the health of our planet…
Using the power of simple cells as "microscopic factories," biotechnology brings about new products and methods to combat disease, feed the hungry, clean up our planet and improve the quality of our lives.
The NC Museum of Natural Sciences supports biotechnology in North Carolina with programs and activities ranging from public programs highlighting leading experts in the field to hands-on activities and experiments in its public exhibit space, the Micro World Investigate Lab.  In addition to year-long activities, biotechnology is celebrated during the Museum's annual spring event, the Triangle SciTech Expo, where families can explore the many different facets of STEM, from robots to astronomy to DNA!
---
BIOTECH Success Story!
The Triangle's many science companies and research universities have provided many success stories. From top-level research directors to biomanufacturing technicians, all the people involved in the biotech field play a crucial role in improving our lives.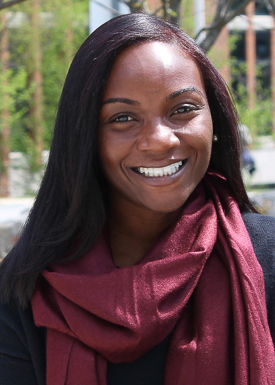 Dr. Kizzmekia Corbett.
A wonderful success story from 2020 is that of a local North Carolinian who has become a significant leader in the development of the new vaccines. Dr. Kizzmekia Corbett is the lead researcher on the Covid vaccine, at the Vaccine Research Center at the National Institute of Allergy and Infectious Diseases, (NIAID) a part of the National Institutes of Health (NIH) in Bethesda, Maryland.
Dr. Corbett grew up in a large family in Hillsborough, NC, and as a high school student completed a mathematics-intensive college-prep program called ProjectSEED.  Throughout her college years, she worked in a variety of research labs including UNC's Kenan Labs and laboratories at Stony Brook University, as well as the University of Maryland. She graduated with a BS degree in the biological sciences and sociology from University of Maryland (UMBC) and went on to work with the National Institute of Health (NIH) on respiratory viruses and vaccine research. She later received a PhD in microbiology and immunology from the University of North Carolina at Chapel Hill.  During her research studies for her PhD, she worked for several years in Sri Lanka, studying how the genetics of dengue virus can impact the severity of the disease.
After receiving her doctorate, she continued vaccine research at the NIH.  This research led her to work on development of vaccines for the Covid-19 virus. Dr. Corbett recently commented: "To be living in this moment where I have the opportunity to work on something that has imminent global importance…it's just a surreal moment for me."
Dr. Corbett's supervisor, VRC deputy director Dr. Barney Graham, (https://nihrecord.nih.gov/2020/12/11/corbett-recounts-quest-covid-vaccine) describes her work this way in the Dec 2020 NIH Record:
For the past 6 years … her work has focused on coronavirus biology, especially spike structure, antibodies, mechanisms of neutralization and vaccine development…[her team] made the first spike protein that was the basis for diagnostic assays, antibody discovery and vaccines. She's been central to the development of the mRNA vaccine and Lilly monoclonal antibody that were the first to enter phase 1 and phase 2 trials in the U.S.
Dr. Corbett is a true hero in our fight against the Covid virus, and we are proud of her local NC connections!   To learn more about her story, see:
---
Careers and Jobs in Biotech

Are you searching for a path to an exciting and world-altering job?  There are many ways to begin working in biotechnology and the number of jobs in biotech is growing in our state!
Biotechnology is a vital part of MANY fields which include jobs that bring about:
more successful and profitable agriculturewith healthier soil, crops and livestock and less toxic pest control
improved human nutrition
improved ecology and pollution clean-up
discovery, testing and manufacturing of vital new medicines, vaccines, medical devices, and medical supplies
new aquaculture methods and marine science discoveries
biodefense products
biofuels and new forms of power
a wide range of scientific research opportunities
In addition, there are support service jobs including:
teaching
business and accounting
public relations, sales and marketing
graphic design
legal
real estate, banking and investment
transportation, distribution, and repair-service jobs
---
Education
There is a WIDE range of educational opportunities available throughout North Carolina to help students prepare for work in Biotech. These range from courses for technician positions that may require a few months to complete (online courses may be available as well), to multi-year university programs for PhD researchers and company directors.  Many companies offer additional training or tuition reimbursement programs for college once a person is on staff.
NC BioNetwork has a great deal of information on the various ways to break into this revolutionary field: https://www.ncbionetwork.org/students
Check out certificate programs that usually take a couple of months or more:
The BioWork certificate program will teach you the foundational skills you need to begin a career as a process technician for a biotechnology, pharmaceutical, or chemical manufacturing company. Process technicians are responsible for the production of chemical and pharmaceutical products.
Read more about how to get started with BioWork.
The NC Community Colleges have programs statewide that are affordable. Here is a list of the many 2-year degree options available at all these community colleges: https://www.ncbionetwork.org/life-science-degree-programs/colleges-programs
Wake Tech Community College operates the Bionetwork Capstone Center on NC State's campus in the Golden Leaf BTEC Building and has a variety of programs there: https://www.waketech.edu/about-wake-tech/locations/capstone-center
Want to get a 4-year-degree or higher in a science/biotech field?  There are many possibilities.  North Carolina has several options for college programs within the statewide UNC system as well as options for programs in private universities such as Duke and William Peace University.
Specialized programs in biotech and biopharmaceuticals exist at:
NC Central's BRITE program (Biomanufacturing Research Institute and Technology Enterprise) https://www.nccu.edu/research/brite
---
Biotech companies in North Carolina
Because of the tremendous effort to invest in educational opportunities for students to enter the biotechnology field, our state has attracted many science companies to locate in North Carolina.  https://www.nccommerce.com/business/key-industries-north-carolina/biotechnology-pharmaceuticals
The Research Triangle Park, top-class universities and colleges, research hospitals, science research facilities, museums and community education labs, in addition to a high quality of life, have created an attractive environment for companies to continue to locate (and re-locate) here. Consequently, the need for trained workers to staff these new local companies is HIGH. And even if you are not a scientist, remember, each of these companies needs a wide range of support services and staff as well!  https://www.ncbiotech.org/transforming-life-science/why-nc  For a list of the MANY bioscience AND service support companies in NC, see: https://directory.ncbiotech.org/
RESOURCES
The NC Biotech Center https://biojobshub.wraltechwire.com/ offers information to students and employers, online videos and NETWORKING opportunities for people to learn more about the Biotech field as well as to where to find jobs.
USDA has a FAQ site for Biotechnology: https://www.usda.gov/topics/biotechnology/biotechnology-frequently-asked-questions-faqs
BioSpace website has information on the biotechnology sector in NC: https://www.biospace.com/bio-nc/
The pharmaceutical company, Biogen, has created Biogen Community Labs and online resources for students and anyone interested in learning more about biotechnology. https://www.biogen.com/en_us/virtual-community-lab.html