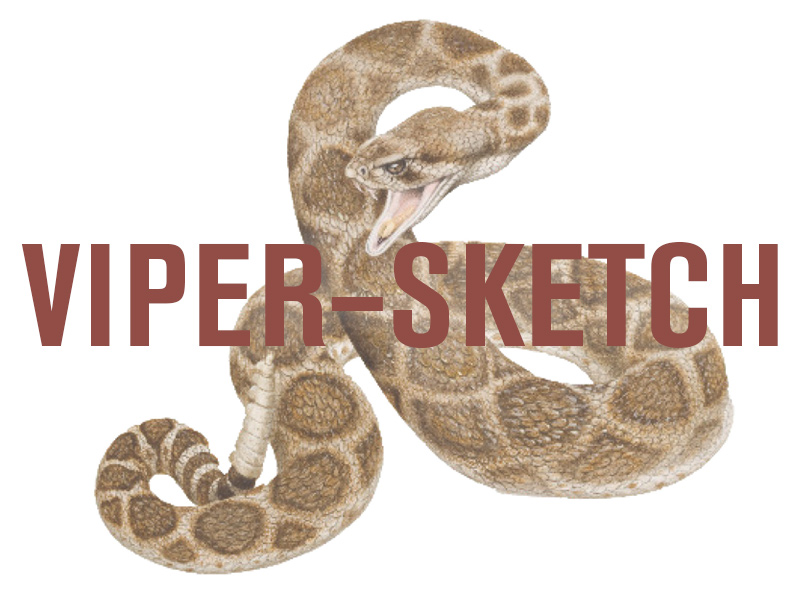 Enter the North Carolina Museum of Natural Sciences' Viper Illustration Contest for Kids
Kids 18 and under are invited to create their best and most realistic version of a viper (venomous snake) in its natural habitat for a chance to win a prize and have their drawing displayed in the Museum Store window.
Participants must turn in one Submission Form for each illustration (limit 3 per child), available at the Museum Store or online at naturalsciences.org/vipersketch (this page).
Entries must be submitted by March 7, 2020 in person or by mail to:
The Museum Store
11 W. Jones St.
Raleigh, NC 27601
Two prizes will be awarded in each age group (under 8, 9–13, and 14–18).
Children can draw, paint or sketch using whatever medium they choose.
The entry must be on a standard-size sheet of paper (8.5 x 11) and be their own work.
Winners will be notified by email, and their art will be on display by Reptile & Amphibian Day on March 14. 
---
Concurso de Dibujo: Vívoras
Participa en el Concurso Infantil de Dibujo y Bosquejo del Museo de Ciencias de Carolina del Norte. El tema del concurso: VÍVORAS.
Como parte del "Reptile & Amphibian Day" (Día de los Reptiles y los Anfibios)
Artistas de hasta 18 años están invitados  a crear su mejor y más realista versión de una vívora (serpiente venenosa) en su hábitat natural. Podrán ganar premios además de ver su dibujo expuesto en la tienda del Museo.
Los participantes deberán rellenar un formulario de participación por cada dibujo que entre en concurso (con un máximo de 3 dibujos por participante). Los formularios de participación están disponibles en la Tienda del Museo u online en naturalsciences.org/vipersketch.
Los dibujos o bocetos que se presenten a concurso deben ser entregados antes del 7 de Marzo, 2020 en persona o enviados por correo a la siguiente dirección:
The Museum Store
11 W. Jones St.
Raleigh, NC 27601
Habrá dos premios por cada categoría. Las categorías se dividen por edades (menores de 8 años, de 9–13 años y de 14–18 años).
Los participantes pueden usar la técnica que ellos prefieran a la hora de dibujar: carboncillo, pinturas, acuarela, etc. ¡Su imaginación es el límite!
Los dibujos deberán realizarse en papel de medidas 8.5 x 11 y los participantes no pueden ser ayudados por los mayores.
Se notificará a los ganadores por email y sus obras serán expuestas durante el Reptile & Amphibian Day (El Día de los Reptiles y Anfibios) el 14 de Marzo de 2020.