For immediate release ‐ December 02, 2019
Contact: Jon Pishney, 919.707.8083. Images available upon request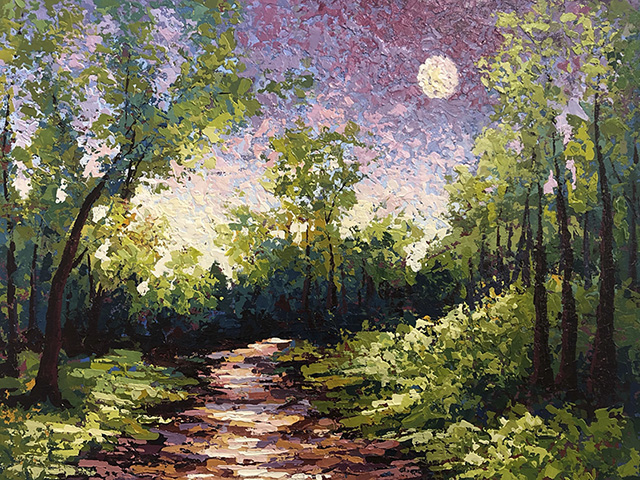 (RALEIGH, N.C.) — The North Carolina Museum of Natural Sciences' Nature Art Gallery presents "Vibrant Nature," artwork by Karin Neuvirth. The show runs Dec. 6 through Jan. 26, with a Gallery reception Saturday, Dec. 7, 2–4 p.m. All exhibited art is for sale.
Visual artist Karin Neuvirth grew up on a farm in southern Minnesota where the winters were always difficult for her. The cold grey days took a toll on her mood, but as she developed her style of painting, she found that the vibrant colors helped her to combat the melancholy that the weather caused her. "Color is the most prominent element in my work," she says. "I know that colors impact our emotions. The vibrant color combinations I use in my work are meant to be uplifting and inspirational."
Now a Durham, North Carolina resident, Neuvirth is best known for her textural acrylic paintings of wooded landscapes, which she refers to as "treescapes." Her current style of painting involves many layers of paint that she applies with a palette knife using broken color to create a sense of movement within her work. "I paint with a palette knife to create textural, energetic and impressionistic paintings that speak to my own spontaneous yet restless nature," Neuvirth adds.
The Nature Art Gallery is located inside the Museum Store. Hours are Monday through Friday, 10 a.m. to 4:45 p.m.; Saturday, 9 a.m. to 4:45 p.m.; and Sunday, noon to 4:45 p.m. Admission to the Gallery is free. All exhibited art is for sale. For more information about the Nature Art Gallery, call 919.707.9854.
---
The North Carolina Museum of Natural Sciences in downtown Raleigh (11 and 121 W. Jones St.) is an active research institution that engages visitors of every age and stage of learning in the wonders of science and the natural world. Hours: Monday–Saturday, 9 a.m.–5 p.m., and Sunday, noon–5 p.m. General admission is free. For more information, visit naturalsciences.org.