For immediate release ‐ November 22, 2019
Contact: Alvin Braswell, 919.707.9803 and Charles Yelton, 919.707.8879. Images available upon request
Architect's rendering of the Mary Ann Brittain Education Center at Prairie Ridge Ecostation. Image: Frank Harmon. Click to enlarge.

In 2004, the Museum opened Prairie Ridge Ecostation, a 45-acre outdoor education facility on the west side of Raleigh. Located in the heart of the Triangle, this nature preserve is a haven for wildlife and a unique destination where visitors can learn and explore the outdoors. Since its opening, Prairie Ridge has welcomed hundreds of thousands of students, teachers, and nature lovers of all ages. A new Education Center will allow us to expand our services and amenities year-round to increase the number of visitors we can accommodate.
About Prairie Ridge Ecostation
Prairie Ridge boasts a green Outdoor Classroom, a native plant garden and native tree arboretum, a series of ponds and vernal pools, and a trail system winding through the prairie and forest. Museum staff offer a multitude of public programs to educate visitors about nature and science. The Nature PlaySpace for young children has become a safe, popular space for nature-based play; programs offered here include Nature Stories and Nature PlayDays. Prairie Ridge is also a hub for researchers who conduct citizen science onsite, affording visitors numerous opportunities to participate in real scientific research.
About the Education Center
The Mary Ann Brittain Education Center will sit at the entrance of Prairie Ridge, providing a place for visitor orientation and improved visitor amenities.  An indoor classroom will meet the increasing demand for year-round and inclement weather educational programming. Additional accessible restrooms will allow us to accommodate more visitors and larger groups. The Center will also house permanent office space for the Prairie Ridge staff, who work onsite year-round.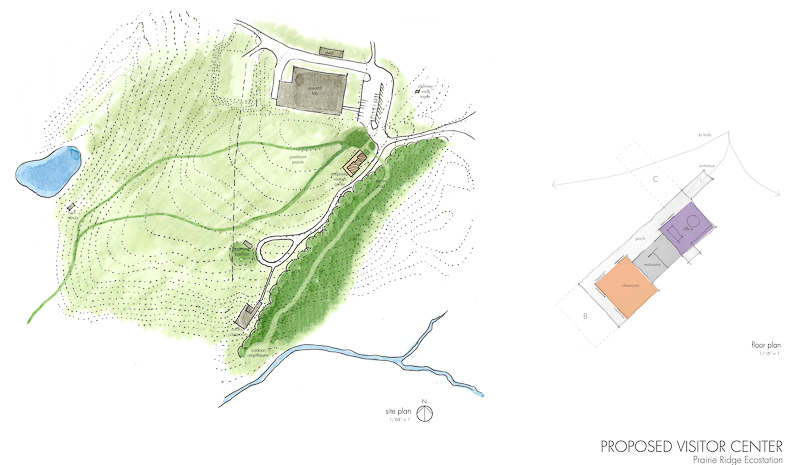 Prairie Ridge site plan and floor plan for the Mary Ann Brittain Education Center. Image: Frank Harmon. Click to enlarge.

Frank Harmon, architect for the existing Outdoor Classroom and site design for Prairie Ridge, will be assisting with the design of the new Education Center.
The Education Center will be named in memory of Prairie Ridge's founding director, Mary Ann Brittain, an innovative educator whose passion for nature inspired countless others to incorporate the outdoors into their classrooms.
How you can help
If you would like to support this project, please visit our donate page or contact Lisa Molina, Development Officer, at 919.707.9964 or lisa.molina@naturalsciences.org.