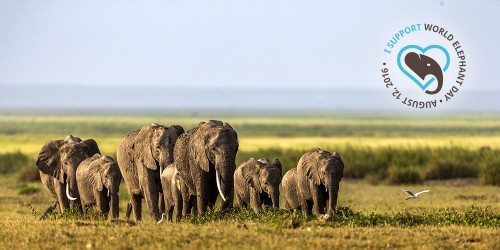 The elephant is loved, revered and respected by people and cultures around the world, yet nearly 100 elephants are killed every day (in Africa alone) for their ivory and meat as well as from human conflict. Join us August 12 as we recognize World Elephant Day with screenings of award-winning films about the urgent plight of Asian and African elephants. Plus, hear how scientists with the Museum are working to better understand elephants, and discover how you can help save these magnificent creatures from extinction.
"Elephants are simply one more natural resource that is being caught up in human greed on the one hand and human need on the other.  We somehow need people to become reacquainted with nature or they can have no clue as to the interrelatedness of cause and effect."
– Dr. Stephen Blake, Max Planck Institute
Film Screenings — WRAL 3D Theater
For the Love of Elephants
11:00 am
"For the Love of Elephants" takes viewers inside the emotional world of orphaned African elephants and their compassionate keepers at the David Sheldrick Wildlife Trust. Witness the rescue of baby Sities and other playful young elephant orphans, who together with caregivers Daphne, Edwin, Mishak and Angela form a healing human-elephant family. [45 minutes]
Elephants Without Borders
1:00 pm
Follow an extraordinary journey with Dr. Mike Chase, an elephant researcher from Botswana, who is unraveling the secrets of these gentle giants, and trying to prevent an almost inevitable catastrophe that could see 60,000 elephants die. Mike uncovers startling ancient elephant migration routes, negotiates the land-mines of Angola, crosses desolate salt pans, collars and radio-tracks elephants from a plane, probing for answers to a great elephant mystery. [59 minutes]
Manas: Return of the Giants
3:00 pm
Manas National Park was destroyed by a two-decade war, resulting in an almost complete loss of wildlife. With the help of scientists and armed rangers the animals are slowly returning, but Manas needs all of the giants back if it has any chance of recovering its former glory. [51 minutes]
Presentation & Short Films — SECU Daily Planet Theater
An Elephant Tale: The Matriarch
noon
Elephants — so different in form yet with an inner life that rivals our own. This short video tells the tale of a single elephant, but provides powerful testimony to the experience of the species as a whole at this crucial moment in their existence. Together, we must not be the generation that allows elephants to disappear. [3 minutes]
SciChat: World Elephant Day with Dr. Stephanie Schuttler
12:15 pm
Elephants are among the most intelligent animals on Earth and have unique behaviors rarely observed in other species. Find out what these behaviors are and why elephant family groups are vital for their survival. Stephanie Schuttler, postdoctoral research associate with the Museum's Biodiversity Research Lab, studies the behavior and distribution of mammals in human-modified landscapes. She creates lesson plans with teachers to implement eMammal, a citizen science camera-trapping program, into K-12 classrooms, where students contribute data to scientific research. She also studies African forest elephant sociality and is passionate about science communication.
I Will Always Remember You
2:00 pm
Every orphan of ivory poaching once had a family. This is their story. "I will always remember you" shows how elephant families are being torn apart by ivory poaching, portraying the lifesaving work of the David Sheldrick Wildlife Trust. Survivors like the orphan elephants in the film, have the opportunity to not only live, but to go on and start their own families back in the wild. This animation, created entirely through five months of painstaking pen-to-paper illustrations, was inspired from the artwork, vision and heart of Hugo Guinness based on his DSWT collaboration with J. Crew. [5 minutes]