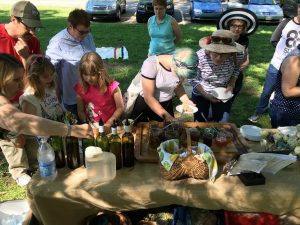 Join Piedmont Picnic Project for a Wild History Foraging Walk + Wild Food Tasting. We'll learn more about edible wild plants growing along downtown Raleigh streets, hear stories about Raleigh's local history along our trail, and then taste dishes made from the same plants!  Class begins in the Naturalist Center at the NC Museum of Natural Sciences, from there we will explore the wild places in the surrounding downtown area, and then end at a nearby park for a wild foods tasting.  We will review foraging guidelines and safety as well as instruction on plant uses and identification. For the light picnic you can expect wild tea, local bread, wild jams, jellies, and pickles, wild greens, and a wild treat for dessert!
ABOUT THE INSTRUCTORS
Piedmont Picnic Project was co-founded by Elizabeth Weichel and Amanda Matson based on a common love of food history and historical food practices.  Elizabeth's background is in history and museums, particularly in the South.  She uses this background to set the local context for the food we eat and the places it grows.  Amanda can usually be found picking food out of her or her neighbors' front yards and then preserving or fermenting it into some new thing.  Her background is in community research and advocacy, so she's all about getting people involved in creating the kind of communities they want to live in. She thinks food is an important part of that.  Piedmont Picnic Project uses food history to build awareness and skills around traditional food practices (foraging, gardening, mixology, preserving, fermenting, and creative reuse).  They host highly-interactive classes, walking tours, and events in the area to show how food history can be a lot of fun and teach us practical ways to eat and live more locally, sustainably, and simply.  
Registration Information: Program is Sold Out – No walk-up registration for this program.
Registration is required.
For questions about the program, please contact Cindy Lincoln at 919.707.9269 or cynthia.lincoln@naturalsciences.org