The North Carolina Museum of Natural Sciences is hosting a Volunteer and Intern Fair! We cordially invite college students to save the date.
The following organizations will be at the Fair to talk to students about volunteer and internship opportunities within the fields of education, animal care, art, history, natural resource management and more!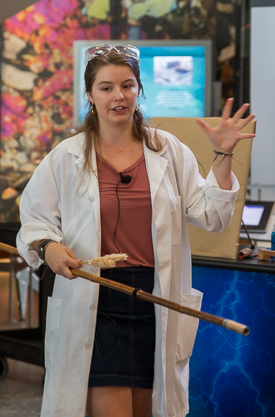 The Museum will also be offering student tours to provide an in-depth look at what volunteer work or an internship is like in the following areas:
1:00pm: Discovery Room — Animal costumes, colorful murals, a working beehive, Discovery Boxes, microscopes, an augmented reality sand table and a toddler area are just a few of the elements visitors of all ages can interact with in the Discovery Room. Volunteers and interns alike help facilitate both Family Time and Discovery Fun field trip classes within this space.
1:45pm: Floor Programming — Do you enjoy talking to people? Are you looking for experience in informal education and creation of programs? Then take this tour! Floor Educators and Floor Interpreters engage visitors in informal conversations about a science topic using hands-on activities, objects, pictures and/or scientific equipment to help them develop a personal connection to the Museum. Floor Educators and Interpreters also provide general information about the Museum and its exhibits.
2:30pm: Naturalist Center — The Naturalist Center serves as a bridge between the Museum's Research and Collections section and the public. It houses a large collection of natural history objects accessible to both school groups and the general public. The collection is complemented by visual aids and laboratory equipment. Volunteers and interns in this space facilitate the exploration of natural history specimens and help educate visitors about them.
3:15pm: Investigate Labs — Engage visitors in hands-on scientific experiments using real equipment in the Micro World, Natural World and Visual World Investigate Labs! Explore topics such as DNA extraction, plant growth, virtual reality, water quality, 3D printing and more.
Tours last 30–45 minutes. You must meet at the NCMNS Table on the 4th floor of the NRC to sign up for a tour. Tours are limited to 10 participants.
The Museum is open on Sundays from noon to 5pm. With free parking and free admission, we encourage students to spend some time exploring all our Museum has to offer while you visit the Fair. We will provide a list of other area opportunities for students to explore at your own leisure.