5:30pm-7pm: Food, live music and science stations.
7pm: Movie begins in the WRAL 3D Theater, followed by commentary.
The Little Mermaid
Under the sea
Under the sea
Darling it's better
Down where it's wetter
Take it from me
Up on the shore they work all day
Out in the sun they slave away
While we devotin'
Full time to floatin'
Under the sea…."
Get your fins ready to dive into an unforgettable adventure with Ariel, Flounder and Sebastian in our May installment of Finally Friday. We'll be screening one of the most iconic Disney movies: "The Little Mermaid." Join us as we explore the ocean depths and the creatures that live there. Plus, you can show off your singing voice in our very first sing-along Finally Friday!  We'll host Megan McCuller, Collections Manager of Non-molluscan Invertebrates here at the Museum. Megan, whose research interests lie broadly with the historical biogeography of introduced marine invertebrates, will help us separate the science from the fiction following the movie. Don't miss it!
SOLD OUT!
This 28th Disney Classic was loosely based on the Danish fairy tale by Hans Christian Andersen and tells the story of Ariel, a mermaid princess who dreams of becoming human. It was written, produced, and directed by Ron Clements and John Musker and features music by Alan Menken and Howard Ashman.
---
SCIENCE STATIONS (5:30–7PM)
Manatees on the Move
NC Museum of Natural Sciences
Manatees face many dangers as they navigate the warm waters of the Southern US. Pretend you are a manatee and dodge boat propellers, avoid red tide and seek delicious sea grass. Those who survive get a prize!
Crustacean Station
Arthropod Zoo, NC Museum of Natural Sciences
Meet Sebastian's friends and family at the "Crustacean Station!"  They're great to have around in a pinch!
Popsicle Stick Mermaids
NC Museum of Natural Sciences
What's better than watching "The Little Mermaid" on the big screen?  Watching it with your very own popsicle stick mermaid!  Make your mermaid and bring her along to the show!
Sea Turtle Exploration
NC Museum of Natural Sciences
Learn about the seven species of sea turtles, their amazing adaptations to survive in a marine environment and some of the threats they face for survival.
What Is a Mollusk?
Aquatic Invertebrates Research Lab, NC Museum of Natural Sciences
Mollusks are the largest group of marine animals, and the second largest phylum of animals on the planet with about 80,000 species, including snails and clams. They are used for food, jewelry, money, pearls, tools, and a potential source of medicine. Freshwater bivalves are nature's filtering system in rivers and creeks. Mollusks are also valuable bioindicators to monitor environmental health. Come learn more about these surprisingly fascinating creatures!
Wonderful Whales
NC Museum of Natural Sciences
What other mammals share the marine environment with Ariel?  Whales!  Whales are amazingly adapted to life in the ocean.  Come learn about these incredible animals and learn about the skeletons hanging in the Museum's Coastal Hall!
---
MUSIC (5:30–7PM)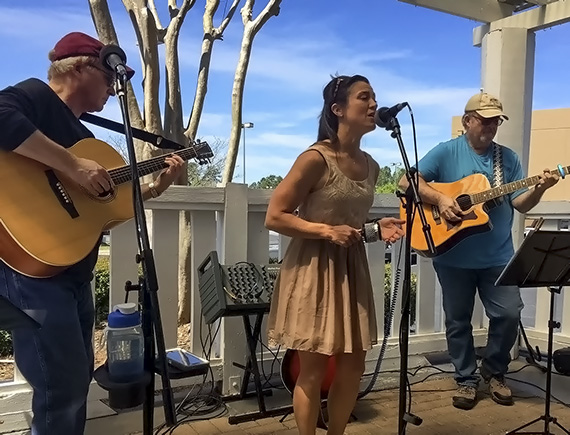 Loos Change is an acoustic trio based in Raleigh that plays a wide range of material from the 1960s to today. From the British Invasion to Americana, classic country, R&B, and pure pop, Loos Change has something for everybody. Don't miss them at this month's Finally Friday event!
---
 FOOD & DRINK
This Finally Friday event enjoy Hot Dogs for $6, Caprese Sandwich for $8 or Quinoa & Avocado Salad for $8. And don't miss our selection of wine and craft beers and other snacks!