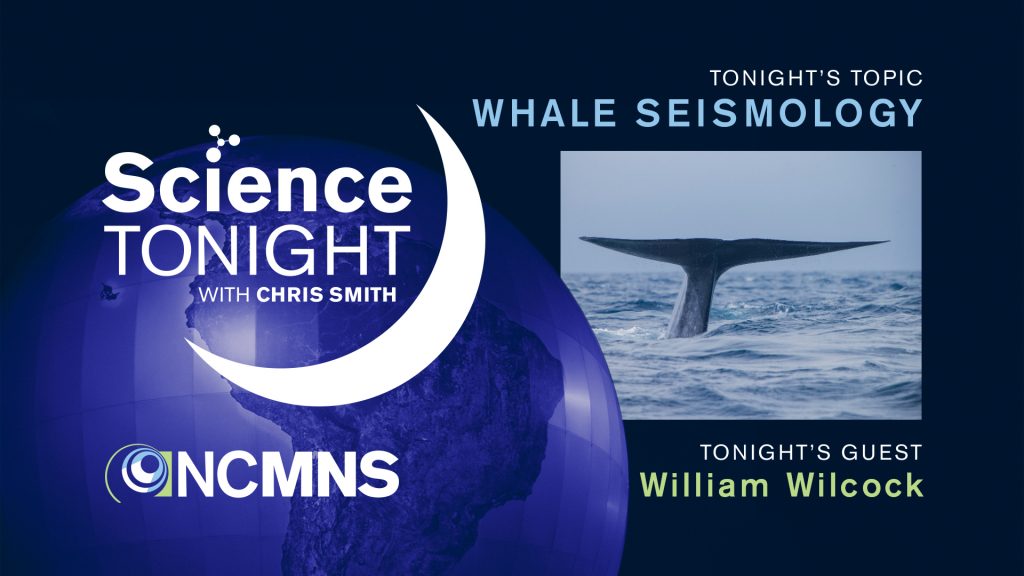 It's Science Tonight with Chris Smith! Tonight, Chris talks with oceanographer William Wilcock about using earthquake monitoring devices to study some of the largest animals on Earth.
Large whales are amongst the most captivating animals on Earth, but they are challenging to study because they are too big to hold in tanks, they spend most of their time underwater, and individuals can range over thousands of miles. Recording their vocalizations is one of only a handful of tools available to scientists, but such data can be expensive to obtain, particularly in the deep ocean. The two largest whale species, blue and fin whales, create very loud repetitive sounds at frequencies of about 20 Hz that overlap those of earthquakes, and they are commonly recorded by the networks of seafloor seismometers deployed for geophysical studies. Whale recordings on seafloor seismometers are sometimes viewed as a bothersome source of noise that obscures seismic signals, but beginning with some pioneering work in the 1990s, a small but growing community of marine seismologists are taking advantage of earthquake monitoring experiments in the oceans to study blue and fin whales. Many of the seismological techniques to locate earthquakes and determine their size and frequency characteristics can be adapted to whales. In tonight's show, Dr. Wilcock will describe the origin of his interest in whale seismology and discuss ongoing efforts to exploit extensive seismic data sets in the northeast Pacific and elsewhere for whale seismology.
Tonight's Guest
William Wilcock is the Jerome M. Paros Endowed Chair in Sensor Networks in the School of Oceanography at the University of Washington.  His research interests include using geophysical techniques to understand seafloor volcanoes and hydrothermal systems, developing new tools for seafloor geodesy at subduction zones, exploiting cabled seafloor observatories for scientific studies and earthquake and tsunami early warning, and studying baleen whales using opportunistic recordings by seafloor seismometers.
Please note all programs are in Eastern Time Zone (US and Canada).
Science Tonight is a livestream show for people who want to know more. Host Chris Smith talks with interesting people making exciting, everyday discoveries in science, nature, tech and more. Watch every Thursday night to grow your brain and get the latest stories in the science world.