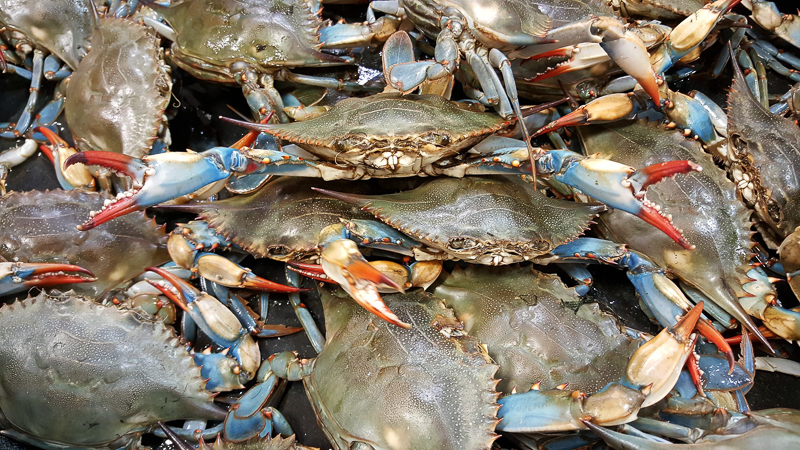 Looking to Better Understand Juvenile Blue Crab Habitat Use in Pamlico Sound
The North Carolina Blue Crab is a popular East Coast seafood and one of North Carolina's largest fisheries. While many people associate blue crabs with the Chesapeake Bay, the sound systems of North Carolina support a large and complex population. The unique geography of Pamlico sound, a wide shallow basin bordered on its eastern shore by a large barrier island chain interspersed by small inlets and on the western shore a web of pristine marsh shorelines and branching rivers, create a mosaic of juvenile habitat for a number of key species. Erin's work looks to better understand how the geography of Pamlico Sound combined with the unique weather patterns observed here influence juvenile blue crab habitat usage. By better understanding where juvenile blue crabs live and what factors affect these habitats Erin hopes to provide key information needed to support a healthy and profitable fishery for years to come.
Tonight's Guest
Erin Voigt is a PhD candidate at North Carolina State University studying juvenile blue crab habitat use. As a native Marylander the blue crab has always been close to Erin's heart and preferably her stomach. Erin initially became interested in marine biology and coastal studies while studying biology at her undergraduate alma mater St Mary's College of Maryland, located directly on a tributary of the Chesapeake Bay. This curiosity led her to explore wider coastal systems including earning a Masters in Science in Marine Ecology from San Diego State University in Southern California. At NC State, Erin is a Global Change Fellow with the Southeast Climate Adaptation Science Center and Marine Science Fellow with NC Sea Grant and the Albemarle Pamlico National Estuarine Partnership (APNEP). In her spare time Erin enjoys going on adventures with her husband and dog Pan, tie dyeing and baking.
---
Science Tonight (formerly the Science Cafe) is a livestream show for people who want to know more. Host Chris Smith talks with interesting people making exciting, everyday discoveries in science, nature, tech and more. Watch every Thursday night to grow your brain and get the latest stories in the science world.