The Weed that Killed Lincoln's Mother & Other Botanical Atrocities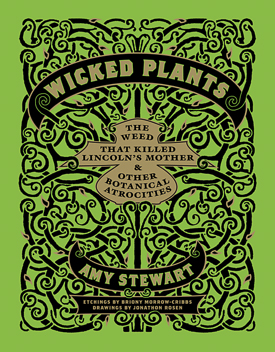 In her New York Times bestseller, "Wicked Plants: The Weed That Killed Lincoln's Mother and Other Botanical Atrocities," Amy Stewart takes on Mother Nature's most appalling creations. It's an A to Z of plants that kill, maim, intoxicate, and otherwise offend. Drawing on history, medicine, science and legend, Stewart presents tales of bloodcurdling botany that will entertain, alarm and enlighten even the most intrepid gardeners and nature lovers.
Find out which plant killed Abraham Lincoln's mother, which shrub ignited a global war, and which plant has killed 90 million people. From strychnine to castor bean, from poison sumac to monkshood, from carnivorous plants to weeds that spontaneously combust, Stewart introduces an unforgettable cast of characters and tells their tales with her own wicked sense of humor.
Tonight's Guest
Amy Stewart is the New York Times best-selling author of "Wicked Plants" and more popular titles, including "The Drunken Botanist" and "Flower Confidential." Her books have sold over a million copies worldwide and have been translated into 17 languages. Amy's 2009 book Wicked Plants has been adapted into a national traveling exhibit by the North Carolina Arboretum that terrifies children at science museums nationwide.
---
Science Tonight (formerly the Science Cafe) is a livestream show for people who want to know more. Host Chris Smith talks with interesting people making exciting, everyday discoveries in science, nature, tech and more. Watch every Thursday night to grow your brain and get the latest stories in the science world.