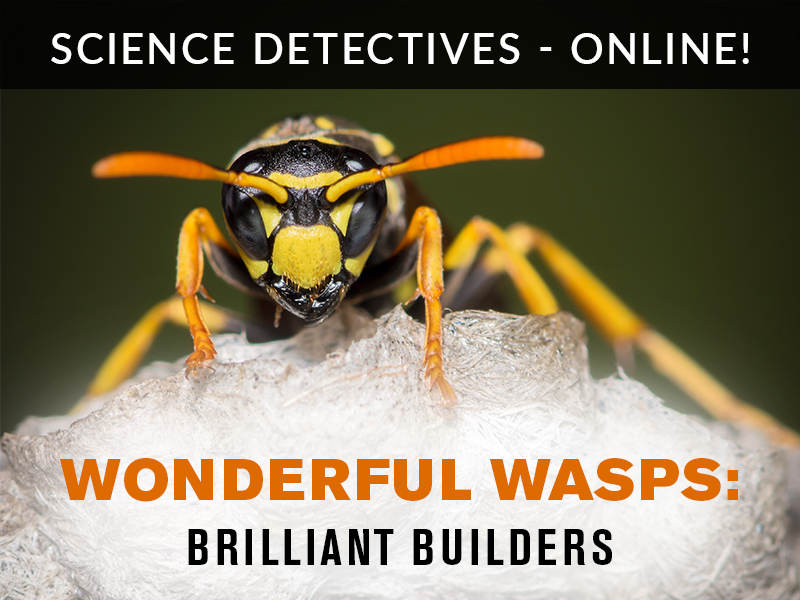 New interactive offering for children 8-10 years old: Hidden under the eaves of buildings are the homes of a wonderful variety of wasps and bees.  Together we will peek inside these nests and explore the fascinating lives of their builders.  A highlight of the program will be an exploration of an Organ Pipe Mud Dauber nest. 
This session comes with a kit that allows children to actively participate during the program. It includes natural objects that participants can continue to explore long after the program is over.  All activities encourage the development of skills in scientific observation and thinking. 
Museum pickup available!  
Select the Museum pick-up option during registration and receive a $5 gift card to the Museum Store! Kits will be available for pickup one week prior to the program date. The gift card is valid at the North Carolina Museum of Natural Sciences Museum Stores for online or in-person shopping only, and not valid for Cafe or other Museum purchases. 
Registration is closed for this program
Registration Deadline: October 12, 8am. 
Check out our November programs!
November 18th, 2020:
Frog Calls, ages 6–7, 9:30–10:30am
Owls: Our Nocturnal Neighbors, ages 8–10, 11:30am–12:30pm
Biotech Tools: Gel Electrophoresis, ages 11–13, 2:00–3:00pm
Not a member yet?  Join today to receive a discount! 
Questions: Please visit the Frequently Asked Questions for more information or email educationNCMNS@naturalsciences.org.