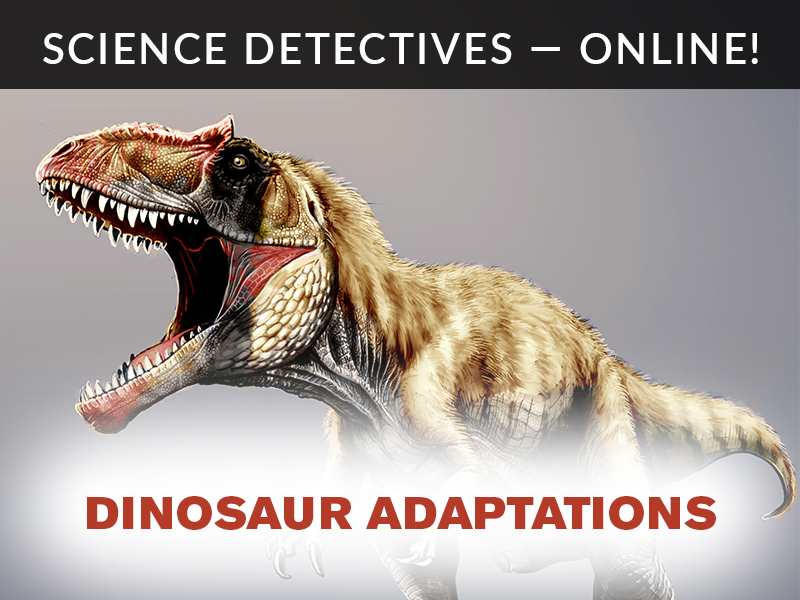 New interactive offering for children 8–10 years old:  Tyrannosaurus rex was once the king of the dinosaurs, but did you know you might have its closest living relative for dinner tonight? Triceratops is famed for its three massive horns, but what exactly were they for? And why did Stegosaurus have a back full of plates? Answer these questions and more as we take a trip back in time to learn how dinosaurs adapted to live on our planet.
Each live program will come with an interactive kit that contains materials for the child  to use during the class. All activities encourage the development of skills in scientific observation and thinking.  
Participants Need to Provide:
Computer or tablet with a microphone and camera

Internet connection

Access to Zoom

A pencil

A notebook or paper for observations

Area in front of the computer to do activities on a table
Kit Delivery Options:
All registrants will be given the option to select either "Museum Pickup" or "Ship to Home" at checkout. If you select "Ship to Home," your kit will be mailed at least one week prior to the start of the program to the mailing address you provide (kit shipping is included in the program price). If you select "Museum Pickup," your kit will be available at the Museum Store one week before your program date. Registrants who select Museum Pickup will receive a $5.00 gift card to the Museum Store!  The gift card is valid at the North Carolina Museum of Natural Sciences Museum Stores for online or in-person shopping only, and not valid for Cafe or other Museum purchases.
Registration is closed for this program
Registration Deadline: Monday, December 7, 8:00am.
Not a member yet?  Join today to receive a discount! 
Questions: Please visit the Frequently Asked Questions for more information or email educationNCMNS@naturalsciences.org.